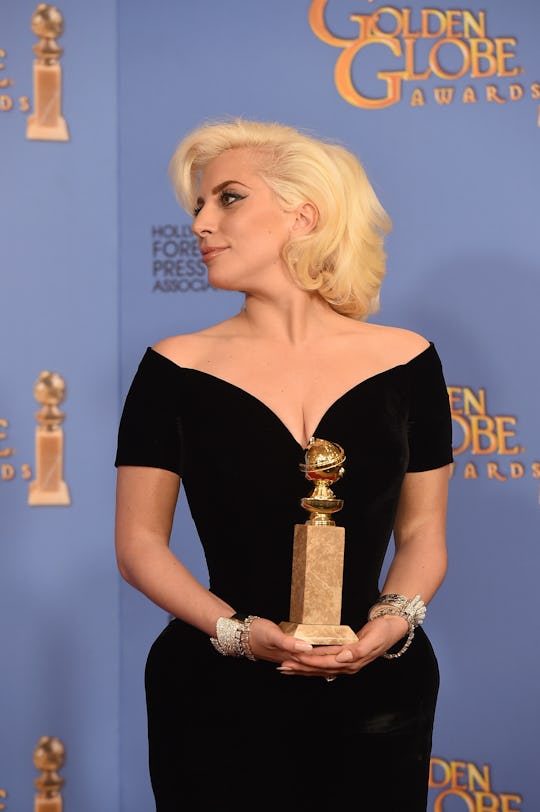 5 Ways The Lady Gaga And Leonardo DiCaprio GIF Should Be Used In Daily Life
The hands-down best moment of Sunday's Golden Globes was captured perfectly in the form of a GIF of Lady Gaga brushing past Leonardo DiCaprio after she won the Best Supporting Actress in a TV Miniseries Globe for her performance in American Horror Story: Hotel. The moment couldn't be more perfect, or more bizarre, either. It appears that Leo — perhaps after having imbibed a bit too much, no? — is sharing a good laugh with someone seated nearby, rather than joining the rest of the room in adulating Gaga.
Leo's mid-cackle, and then Gaga bumps right into him, though, given Gaga's unending grace, perhaps "sashayed by" is more accurate. She kinda just walks into DiCaprio's arm, like it's not even there. Leo gives her a rancid look that says something like, "Really, Gaga? You're all up in my space, plus I think you have cooties." In response, Gaga continues her serious diva walk to the stage, totally unaware of a megastar like DiCaprio, whom she surely deems a mere mortal. I mean, honestly, DiCaprio hasn't even won an Oscar, right?
OK, to be fair, DiCaprio is definitely one of the best actors of his generation, and there's a good chance he wasn't even laughing at Gaga at all. But still, it's a good moment, and it doesn't hurt that Gaga was 100 percent channeling her inner queen. To celebrate the GIF that launched a thousand ships, here are some suggestions for great ways to incorporate it into your daily life.