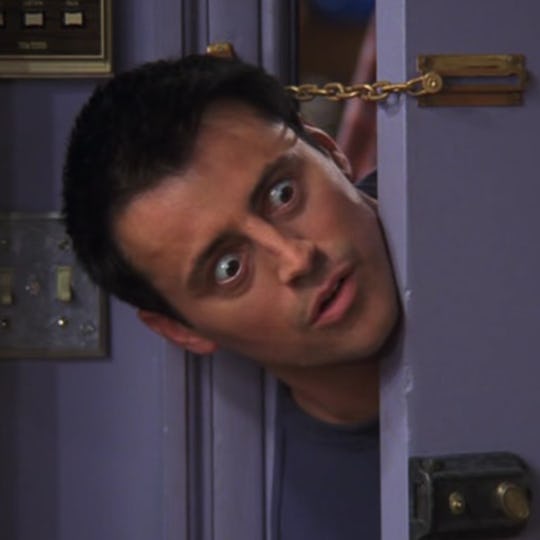 5 Ways You're Like Joey Tribbiani On Thanksgiving, With Or Without Eating Pants
If the cast of Friends had a kids' table, Joey Tribbiani would be at the head of the table. He has no qualms about whining to Monica as she prepares the Thanksgiving meal, begging to know how much longer until he can devour the turkey, sides, and desserts that he waits for all year. He impatiently passes the time with jokes and has even been known to sneak some of the food before it was ready. In you think about it, you're a lot like Joey Tribbiani on Thanksgiving.
And there's nothing wrong with that because, at his core, Joey is just a big kid. I think in a way we all turn into kids around the holidays. Something about the traditions and smells of Thanksgiving make me feel like an 8-year-old again, and gives me that magical feeling I experienced each year as my mom and aunts whipped up all my favorites in my family's kitchen. I remember being shoo'ed out of the cooking frenzy while asking, how much longer until it's ready? In my attempts to pass the time, I would always end up in trouble for something ridiculous I did or said.
I realized while watching my favorite Thanksgiving episodes of Friends, that Joey felt the same way I do about Turkey Day. Even as an adult, I find that same anticipation and excitement building in me like it did with I was a child. I think we may all be more like Joey than we realize: full of wonder and dying to eat a buttload of food. But if you're still not sure you would call yourself a "Joey" (or baby kangaroo as he once signed a letter after discovering a thesaurus), check out these five ways everyone is like Joey Tribbiani on Thanksgiving.