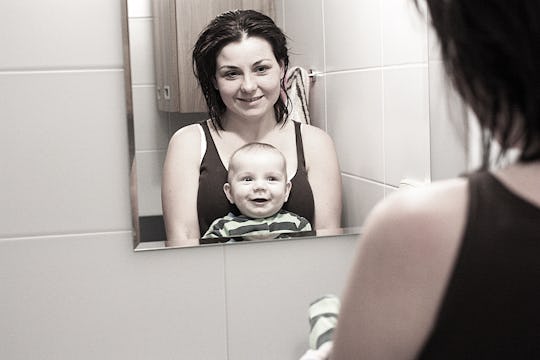 5 Ways You're Subtly Fat Shaming Women Who've Just Given Birth & Why It Needs To Stop
No matter what size a woman is before she becomes pregnant, her body must to change to accommodate the baby. Weight gain is a natural part of the pregnancy process, and one that is surrounded by stigmas and cultural pressures. These false beliefs and body image myths don't end once the baby is born. The pressures and commentary about what a mother's body should look like carry over into postpartum fat shaming, albeit sometimes quite subtle.
Although they exist, it is hard to find books and articles about postpartum life that do not focus on loosing the baby weight. What typically comes to the top of every news feed is how to rock a bikini just two months after giving birth to a child. Where is the literature that is encouraging you to bond with your baby, not your free weights? The article about how your body may never, ever be the same and that is just fine? Yes, those stories are out there, but they don't have enough public opinion to support their wisdom.
I'm not saying I'm unmarred here. I have done my fair share of post-baby body fat shaming, mainly to myself. It's not something I'm proud of or was even 100 percent conscious of, which goes to show how the images and messages we intake can morph into unintentional truths without our consent. If there is going to be a positive shift in how we treat the bodies of post-baby mothers, we need to consider these five subtle ways postpartum bodies are being fat shamed, and why it needs to stop.