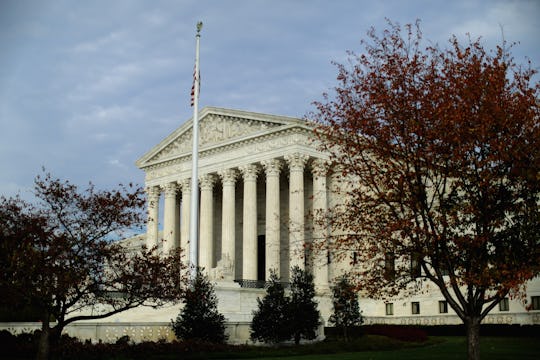 Chip Somodevilla/Getty Images News/Getty Images
5 Women Who Could Be Nominated To The Supreme Court
After the sudden death of Supreme Court Justice Antonin Scalia, everyone is wondering who will be nominated to fill the now-empty judge's seat. I mean, what party will the nominee be aligned with? What personal, political, and religious values will they hold? And what gender will they be? That's right, gender is an important part of this conversation because President Barack Obama's two previous Supreme Court nominees were women: Elena Kagan and Sonia Sotomayor. (Two of four in the Court's nearly 200 year history.) Will Obama continue his streak and attempt to appoint another strong female candidate? If so, which women may be nominated to the Supreme Court?
Truth be told, the expected front-runner this time around is Sri Srinivasan, a male Circuit Judge out of Washington D.C. who is perhaps the most likely to put pressure on Senate Majority Leader Mitch McConnell and force a Senate confirmation vote. (Earlier this week, McConnell vowed he would not confirm any Supreme Court nominee during the remainder of Obama's term, according to Politico) But that doesn't mean women are out of the running. Like the amazing Justice Ruth Bader Ginsburg once said, there will be enough women on the Supreme Court when there are nine. Here are five women Obama might consider to fill the Scalia's seat on the bench.
Patricia Ann Millett
Like Srinivasan, Patricia Ann Millett sits on the D.C. Circuit — a seat which is often considered a stepping stone to the Supreme Court. She spent more than a decade as a Supreme Court litigator in the Solicitor General's office of the Department of Justice Department, and — to-date — Millet has argued 32 cases before the Supreme Court, according to Cosmopolitan. She is seasoned, well-respected, and a strong contender; however, Millet's appointment to the D.C. Circuit was strongly contested by Republicans, according to Politico, making a nomination in this situation unlikely.
Loretta Lynch
Loretta Lynch has served as Obama's attorney general for less than a year, but she has a long and colorful legal career. The 56-year-old previously worked in a private practice and as a federal prosecutor in the Eastern District of New York (Brooklyn), according to Politico. If nominated and confirmed, Lynch would be the first female African-American Supreme Court justice.
Pamela Karlan
Having been considered many times before, Professor Pamela Karlan, 57, is a scholar, an award-winning teacher, and a voting rights expert. Additionally, Karlan is the U.S. Deputy Assistant Attorney General for Voting Rights in the Civil Division of the Department of Justice, according to Stanford Law.
Leondra Kruger
Leondra Kruger currently serves on the Supreme Court of California and, at just 39 years old, she is the youngest person to ever hold that seat, according to the Los Angeles Times. Before serving on the California Supreme Court, Kruger was a clerk for Supreme Court Justice John Paul Stevens. Unfortunately, her age and lack of legal experience make her an unlikely pick, according to Cosmopolitan. (Possible, yes, but highly unlikely.)
Jacqueline Nguyen
Jacqueline Nguyen came to the U.S. when she was just 10 years old. She worked in private practice and as a civil litigator before serving as an assistant U.S. attorney in California. And now, in her 50s, Nguyen is a judge on the Ninth Circuit Court of Appeals, according to Cosmopolitan.
Regardless of who is nominated, this year's appointee is sure to face an uphill battle against the Senate.