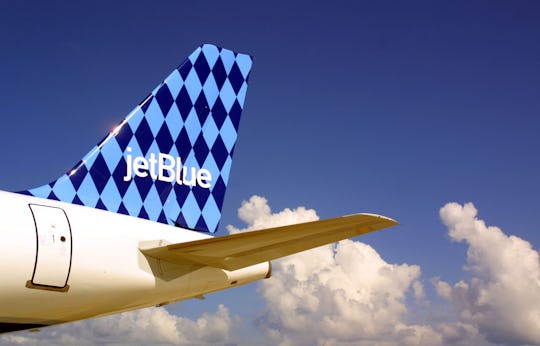 Joe Raedle/Getty Images News/Getty Images
5-Year-Olds Put On Incorrect Flights Finally Got Home Safely
When one New York City mother arrived at the airport to collect her 5-year-old, who was scheduled to fly home unaccompanied, she experienced a major fright: Instead of greeting her own son, fresh from visiting family, she found another, unfamiliar boy clutching her son's passport and luggage. "I thought he was kidnapped," Maribel Martinez told The New York Daily News of the August 17 incident, which was widely reported in early September. Although Martinez was terrified, her son was fine — but he had ended up on the wrong flight when JetBlue mixed him up with another child his same age. Despite the stressful experience, both of the 5-year-olds put on incorrect flights eventually made it home safely.
The boy who arrived at John F. Kennedy International Airport in Manhattan has not been publicly identified, but JetBlue ensured that he made it safely back to his intended destination of Boston. That's where Martinez's son, Andy, ended up at the end of his own direct flight from the Dominican Republic. But Martinez's lawyer, Sanford Rubenstein, told The New York Times that three harrowing hours elapsed before Andy's mother learned that she would see her child again after all, because when he didn't initially arrive she did not know whether or not he was even alive.
JetBlue took immediate steps to try to remedy its error once the boys were back where they were supposed to be, and with the people who were waiting for them back in the United States. The airline refunded the cost of both boys' tickets — which included an extra $100 charge for them to fly alone — and offered them credit to use toward future flights. Most importantly, though, the company said in a statement that its employees were watching over the boys throughout the incident, even though their identities were mixed up:
Upon learning of the error, our teams in J.F.K. and Boston immediately took steps to assist the children in reaching their correct destinations. While the children were always under the care and supervision of JetBlue crew members, we realize this situation was distressing for the families.
Romper independently reached out to JetBlue for comment, but did not immediately hear back.
Martinez had traveled to the Dominican Republic along with Andy July 28, but she returned to the United States before he did, leaving him in the care of relatives. Those relatives recorded video of the boy heading through the airport gate along with other children, NBC News reported. But even though he was wearing a wristband with his name on it, Andy ended up en route to Boston instead of New York City to meet his own mother.
As a result, Rubenstein, the lawyer, said in a statement to NBC News that the family will seek "appropriate legal action," against JetBlue. "Any parent can understand the terrifying feeling of fear a mother goes through knowing her young child is missing," the press release read. "This should never have happened. Jet Blue's employees should be ashamed of themselves."
Martinez and her lawyer are requesting that the the Federal Aviation Administration investigate the incident, and JetBlue said in its statement that it is already doing so. "I don't want to see a mother go through that bad moment that they've caused me," Martinez said through an interpreter (she speaks Spanish) at a press conference about the incident, according to NBC News.
What happened to her and her son was undoubtedly terrifying, and definitely not a travel outcome any parent would ever want to repeat. With each of the 5-year-olds returning home safely, the situation did not have a tragic ending, but it wasn't exactly ideal, either.