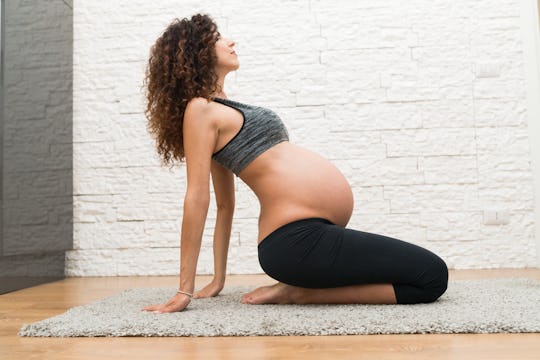 Minerva Studio/Fotolia
5 Yoga Poses To Try If Your Baby Is Stubborn & Breech
When you first get pregnant, you imagine how things will progress. You might plan exactly how you want your pregnancy and labor to unfold, but your baby may have plans of his own. In some cases, babies are stubborn and refuse to get in the ideal position for delivery. If you've been told your baby is breech, there are some yoga poses to turn a breech baby that can encourage your baby to turn around naturally.
Before you do any yoga or exercises, it is super important to clear it with your doctor first. Every pregnancy is different, so you'll want to make sure that any yoga positions or exercises are safe for your individual situation. Even if your doctor gives you the green light, you should be mindful of your individual comfort level and stop any exercises if you feel pain.
There is one position you should avoid altogether — squatting. Doula Ellen Lee tells Romper that when you squat with a breech baby, you could help push the baby down deeper into your pelvis in the wrong position, making it harder for them to turn around. There are also inverted positions that you should avoid if you have high blood pressure or heart conditions, suggested Restore 353 Therapies, because they could put extra strain on your heart.
Once you get the OK from your doctor, go ahead and try these yoga positions, and hopefully, get your birthing plans back on track.