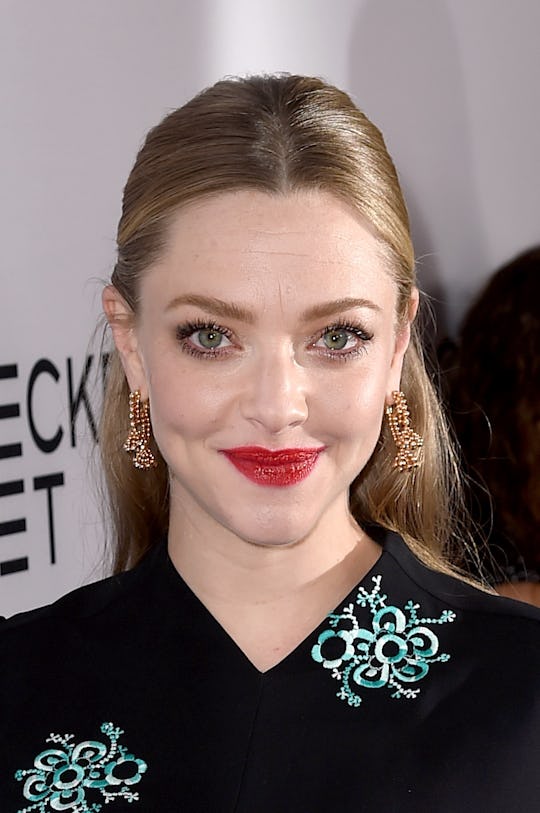 Kevin Winter/Getty Images Entertainment/Getty Images
Amanda Seyfried Quotes Show She'll Rock Motherhood
Amanda Seyfried might be best known for her character's iconic line in Mean Girls — "It's like I have ESPN or something!" — but the 31-year-old actress is actually quite the fountain of wisdom in everyday life as well. And now that she's pregnant with her first child? It sort of feels like the perfect time to dust off this handful of amazing Seyfried quotes that prove she'll be an awesome mom.
According to People, the Mamma Mia! actress first confirmed her pregnancy in November at a Givenchy press launch, where she showed off a a growing bump. This will be Seyfried's first child with her fiancé, actor Thomas Sadoski, whom she met in 2015 when they were both working on the set of an off-Broadway show.
Seyfried's always been sure of her desire to be a mom. In 2014, when asked by Glamour where she saw herself in five to ten years, she responded, "With child!" Then, in 2015, she told Marie Claire:
I keep feeling like my eggs are dying off. Once you've turned 30, you might only have a 20 per cent of getting pregnant [each cycle]. And that's if everything is working well. Isn't that crazy?… I need to get on it… I want a child, badly. I've been feeling it for like, two years. I'm not ready, but nobody is ready.
So, clearly, Seyfried is ready to meet her baby. But what kind of mom will she be? I think there's a few key quotes that prove Seyfried will be a stellar mother (aside from the fact that she really, really wants this child).
She'll Teach Her Kid To Love Themselves
According to Entertainment Tonight, Seyfried has a healthy concept of self-esteem, saying:
The main thing you can change is how you perceive yourself. Stop looking in the mirror and realize that you're living for yourself, not other people ... I have belly fat like everybody else, and I don't want to be airbrushed on the cover of a magazine.
Seyfried Has A Healthy Understanding Of Mental Health
Seyfried doesn't shy away from difficult topics, and she's always been open to sharing her own struggles — which should make it easy for her kids to come to her with anything. Speaking to Allure last year about her long-time use of medication for her OCD, she said,
What are you fighting against? Just the stigma of using a tool? A mental illness is a thing that people cast in a different category [from other illnesses], but I don't think it is. It should be taken as seriously as anything else. You don't see the mental illness: It's not a mass; it's not a cyst. But it's there. Why do you need to prove it? If you can treat it, you treat it.
She later told New York Magazine: "There's a stigma and taboo and it's not helping anybody. It didn't help me when I was a kid. I certainly don't want my kids to feel like they can't talk to me. ... It's really important for young people to hear other people talk about their experiences in a way that sheds light on them."
She'll Raise Her Kid To Be Happily Independent
Speaking to Vogue about her relationship in 2015, Seyfried proved she'll be a strong role model for her child, telling the magazine:
I really do have my own identity, both inside and outside the relationship, if that makes any sense. It just feels right. It's also really good to feel OK being alone.
She's A Feminist
Seyfried is among the actresses in Hollywood who have spoken out about the wage gap. "A few years ago, on one of my big-budget films, I found I was being paid 10% of what my male co-star was getting, and we were pretty even in status," Seyfried told The Sunday Times in 2015, according to the Huffington Post. "It's not about how much you get, it's about how fair it is. ... You have to decide if you're willing to walk away from something, especially as a woman."
Here's to raising young feminists, Seyfried!
She Knows Just The Thing To Say About Mean Girls
Can anyone else picture Seyfried saying this quote directly to her child? Because I totally can. According to Entertainment Tonight, Seyfried shared her view on haters, saying:
You don't have to listen to those mean girls. They're just there to make you upset and make you feel bad about yourself. And you know, inside, they feel bad about themselves too. But they don't wanna admit it to anybody ... Hollywood is just like high school. The popular people only like the other popular people. And the thing is, some people aren't nice, or they're nice, but only to your face, not elsewhere.
She'll Always Be There For Her Child
To Seyfried, self-care is of the utmost importance, especially now that she's about to become a mom. "I'm very, very close to that child in me," she told New York Magazine in December. "I'm working on it every day. I'm very, very involved in working on it now, especially because I'm about to be a mother."
Finally, considering Seyfried's connection to her gorgeous dog, Finn, it seems pretty clear that her kid is going to grow up with a furry best friend, too. With a loving family like that, Seyfried's kid is headed for a pretty good life.