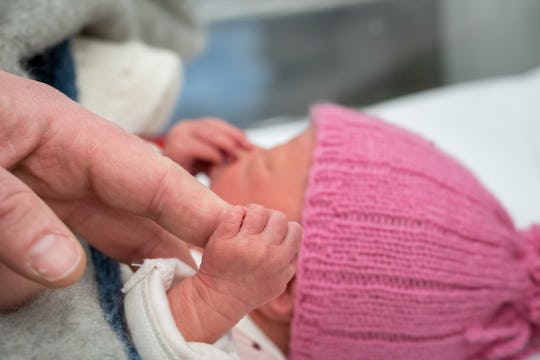 Morten Falch Sortland/Moment/Getty Images
Your Baby Is Born Knowing How To Do These 6 Amazing Things
Babies, they're just like us: They flinch when they're startled and they flail around if dropped in water. Infants are born with reflexes, and you may be surprised by these six amazing things your baby instinctively knows how to do. For example, I'll admit I was a bit disappointed when I found out that babies aren't wrapping their tiny palms around my finger because I'm their favorite person, but instead because it's a natural instinct most commonly known as the "grasping reflex."
The reasons babies have some of these instincts is a bit of a mystery. "We aren't exactly sure why they have these responses," pediatrician Rob Darzynkiewicz M.D. tells Romper. "They are based on neurological development. You can guess that these instincts are rooted in survival. Perhaps these survival instincts were developed over time as babies needed to give certain signals and develop certain habits in order to survive."
One thing's for sure; while infants may seem vulnerable and defenseless (and of course, in many ways, they are) some of their instincts are actually quite sophisticated and designed to protect them from harm. For example, "if an object comes straight toward her, she'll turn her head and try to squirm out of its way. (Amazingly, if the object is on a path that would make it a near miss instead of a collision, she will calmly watch it approach without flinching)," the American Academy of Pediatrics (AAP) explained. And interestingly enough, some things that seem instinctual, like laughing at peek-a-boo, are actually learned behaviors.
"Babies can begin to recognize emotion as they get older, but they are taught which things are good and bad, or happy and sad," Darzynkiewicz tells Romper. "Your baby won't know instinctively if something is funny or happy, but after several months of observing you, they'll begin to pick up on these trends." So if you want your baby to laugh a lot, make sure you laugh often too.
Read on for some of the amazing things your baby instinctively knows how to do, and be prepared to be wowed by baby superpowers.