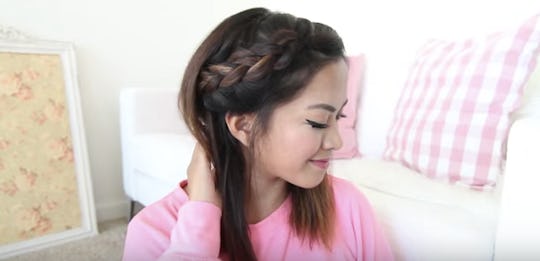 6 Beautiful 5-Minute Hairstyles You Can Do While Literally Running Out The Door
Remember back in the day of yore, when you woke up an hour early to curl and set your hair? Or how about when you actually washed your hair on the regular? These days, with schedules being busier than ever, you need a hairstyle you can do in 5 minutes that isn't the same-old tired top knot.
And now, thanks to the Internet, you have them. From soft waves that look like the result of an amazing blowout  to complicated-looking side braids that actually look better messy and rushed, there are plenty awesome fake-out hair tutorials that'll make people think spent hours on your locks when you didn't. Because who has the time? And the best part — minimal hair skill, tools, and products are required to make these looks happen. So break out some mini hair elastics, dust off your hair tools, and retire that sad ponytail for a few weeks. Sometimes all it takes is a quick braid here, or a twist there, and voila — you have a new 'do that'll have people saying, "Your hair looks ah-mazing today!" Your time-saving secret's safe with us.