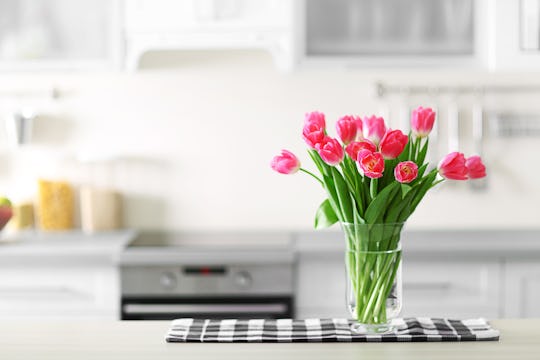 Africa Studio/Shutterstock
The Benefits Of Fresh Flowers In Your Home Will Make You Want To Fill *All* The Vases
Like many millennials, I have a deep abiding love of house plants and flowers. It began innocently enough — One Majesty Palm tree to spruce up the corner of my living room. It quickly spiraled into a few more palms, various spider plants, Boston ferns, and orchids. I'm also a huge fan of having fresh cut flowers around the house as well. They just brighten everything up. And it goes beyond looking cheerful. Recent studies have shown that there are some really interesting benefits to having fresh flowers in your house that you might not have considered when you were picking out your plants and bouquets.
There has been significant recent study given on the how the environment you inhabit affects your daily life. Some of the experiments revolve around healing, others have examined how their simple change on the environment can impact your physical and mental wellbeing. Since more people in our generation than ever before are adorning their spaces with copious amounts of plants and flowers, the interest in these types of studies has spiked.
Having spent long hours researching the perfect flowers for my horoscope, or the ideal plant for my allergies, I was not surprised to learn that the benefits of having flowers in your home are numerous.