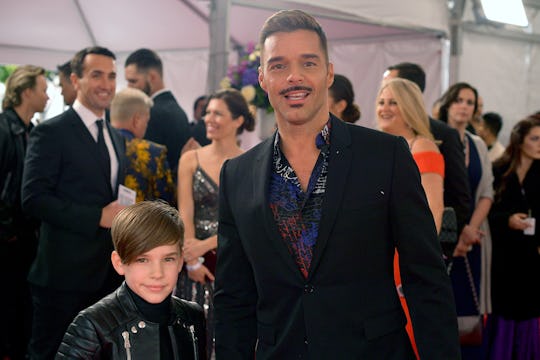 Matt Winkelmeyer/Getty Images Entertainment/Getty Images
6 Celebs Who Brought Their Kids To The 2019 Grammys & Looked SO Cute
When you're a kid, going to work with mom or dad can be a really exciting experience. For celeb kids, that means something vastly different than just going to an office. There are sets and studios to visit, and occasionally you even get to tag along to something really fun — like a gigantic awards show. These six celebs brought their kids to the 2019 Grammys and proved they're the coolest parents around.
Alicia Keys kicked things off weeks ago when she found out she got the Grammys hosting gig and posted a video to her YouTube of the moment she learned the news. In the nine-minute video, she also woke her husband Swizz Beatz up to tell him the news, worked with her stylist and hairdresser, and told her kids about the exciting news. Her two children were less than impressed. In fact, they even seemed a little confused. "What's the Grammys?" asked 8-year-old Egypt, and 4-year-old Genesis didn't react at all. Keys finally shrugged with a can't-win-'em-all kind of vibe, showing how well she knows kids.
But these celebs did win big at the Grammys, whether or not they took home any awards, since they were accompanied by some of their biggest and most adorable fans.
Ricky Martin & Matteo
Martin wasn't accompanied by his husband of one year, Jwan Yosef, to the event. Rather he chose to take his 9-year-old son Matteo. Martin posted a photo of himself holding hands with Matteo on the red carpet on Instagram. "Cool cat for a date at The Grammys!!! 👨‍👦🙌🏼⚡️" he captioned.
Robin Thicke & Julian
Editor's Note: The Instagram post has since been deleted.
Thicke posed with his signature sunglasses in an Instagram snap with his delighted-looking son Julian. The duo were ready to head out the door to celebrate for the evening and captioned the photo, "Thicke Boys! Grammys here we come!"
Anyone else notice those Amazon packages by the front door? Celebrities! They're just like us!
Pete Wentz & His Family
Wentz brought everyone along to enjoy the red carpet. Joining him were his sons Bronx and Saint, and girlfriend Meagan Camper; the couple also have a baby daughter, according to Billboard. Wentz let his kids break the happy baby news with an Instagram pic of the two boys holding a small pink box.
Patton Oswalt & Alice
Oswalt posed with his lookalike daughter, Alice, on the red carpet. The comedian and actor was nominated for Best Comedy Album, according to E! News. While Oswalt was dapper, Alice looked adorable in a gold dress paired with matching sneakers.
Beck & Tuesday
The artist and his daughter matched in polka-dots on the red carpet, while Tuesday kept up the kids' theme of the night with sneakers. Later in the night Beck won Best Alternative Music Album for Colors, according to the Recording Academy.
Rhonda Ross Kendrick & Raif-Henok
Diana Ross' daughter and her grandson struck a pose on the red carpet. During the show Raif-Henok stole hearts when he took the stage to introduce a performance by his legendary grandmother, according to HuffPost.
Sitting through an hours-long awards ceremony may not even be every adult's version of a good time. But there's little doubt that these kids loved watching their bedtime come and go as they enjoyed their parents (and grandparents!) singing and celebrating the night away.