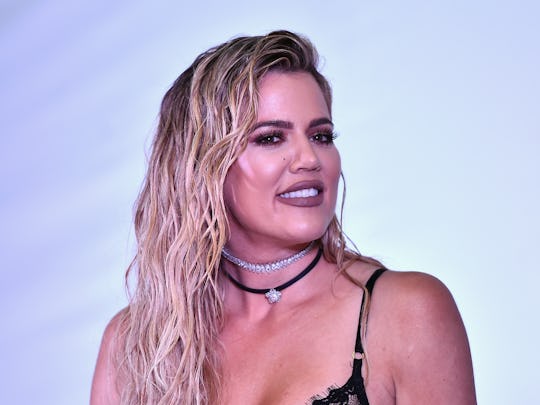 Alberto E. Rodriguez/Getty Images Entertainment/Getty Images
These 6 Clues That Khloe Kardashian *Isn't* Pregnant Will Make You Doubt Everything
Given that none of the Kardashian-Jenner gals have confirmed or officially commented on their reported pregnancies quite yet, fans are grasping for answers as to whether Kim, Kylie, or Khloé are actually expecting or not. However, these six clues that Khloé Kardashian isn't pregnant indicate everyone might be getting their hopes up for nothing. As Kris Jenner would say: "This is a case for the FBI." Romper has reached out to Khloé's representation for comment, but has not heard back at this time.
Before getting into all of the counter-arguments, let's look at the reasons why fans think she's expecting. It all started with multiple anonymous sources reportedly confirming the pregnancy news back in September, according to E! News, insisting that it wasn't just Kylie Jenner who was reportedly looking forward to a little one. After this initial story broke, the "evidence" has been pretty flimsy. Sure, she called her boyfriend "daddy," but that's kind of the new "bae" these days. And yeah, she wore some sweats, but like, it's November? And L.A.'s high was only at like, 70 degrees — practically freezing.
So rather than trying to "catch" Khloé's rumored pregnancy news, maybe take some time to look into why she probably isn't pregnant after all. Despite no official statement against the matter, everybody's favorite Aunt KoKo has spoken out in a number of ways:
1. Her Peplum Top Defense
On an Instagram post from Oct. 5, commenters insisted that Khloé was sporting a bump, but she made sure to shut them down. "This is a peplum shirt," she commented on the photo. "It flairs down at the bottom. It's just the way the shirt is designed. In some of the next pictures coming up from the SAME shoot, I'm in a crop top. Showing a lot of skin..." Just don't mess with the peplum.
2. Her Couples Halloween Costume
Khloé and boyfriend Tristan Thompson went as Game of Thrones characters Daenerys Targaryen and Khal Drogo for Halloween. Their impeccable styling, hair, and make-up was pretty perfect, and Khloé opted for a crop top and mini skirt to complete the look. Judging from the images, she just flat-out does not look very pregnant at all, as commenters were eager to highlight.
3. The Mysterious Gas Station Tampons
Even though they showed up on Kylie's Snapchat, while on a girls' trip together, somebody in their crew needed tampons. Mixed in with a pile of chips, donuts, and candy, fans were still able spot them, causing everyone to wonder: "Which one of you are those for?" Could it be Khlo? Odds could be 50/50.
4. She & Kylie Joke About It
Kylie Cosmetics released its "In Love With The KoKo" collab collection, and a cute video of the sisters helped to debut all the shades. The two play off of all the hype, with Khloé insisting that the lip kit line is their "baby together!" "I know," Kylie quips back, "we have so many babies. Who knew?" Not your fans, that's for sure.
5. Khloé's Had Infertility Struggles In The Past
While investigating her potential to function as a surrogate for big sister Kim, Khloé's doctor shocked her in finding "fewer follicles than ... anticipate[d] for normal 32-year-olds," according to a clip from Keeping Up With The Kardashians. This all aired in a June showing of the hit reality show, and was more or less resolved by the end of the episode. After she stopped taking birth control, Khloé had more follicles in her uterus, as her doctor found, according to Refinery29.
Still, fertility complications are no small thing, and could point to her not being pregnant. If this is the case, all the media speculation and pressure is likely weighing heavily on her, and is probably somewhat devastating to handle from a mental health standpoint.
6. Oh Yeah — & Khloé Herself Hasn't Said Anything About It
Let's be real: the Kardashians (and Jenners) announce any and everything on social media or plug it into the their show, whether it be the shampoo they use, the vitamins they scarf down, and the gas station food hauls they scavenge. If Khloé had big news to share, she'd share it!
OK yes, Khloé's a public figure and in marketing her life on the internet and TV has more or less agreed to some level of prying from fans who feel close and connected to her. But maybe now it's time to respect whatever's going on with her, pregnant or not. Just a few more months down the line and all the investigating in the world won't mean a thing either way.
Federal investigator Norsworthy, over and out.
Watch Romper's new video series, Romper's Doula Diaries:
Check out the entire Romper's Doula Diaries series and other videos on Facebook and the Bustle app across Apple TV, Roku, and Amazon Fire TV.