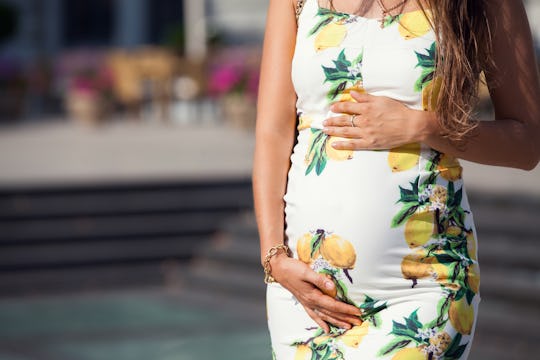 abelena/Fotolia
Here Are 6 Daily (& Easy!) Pregnancy Habits You Should Start For A Healthy You & Baby
Being pregnant is a huge undertaking when you really think about it — you're growing an actual human within your own body. Sometimes, the thought of that can be overwhelming, and you can feel like you're going to make a mistake or do something wrong. Yes, there are some restrictions as what you should do, eat, or be careful about when you're pregnant, but overall, maintaining a simple, healthy lifestyle is really the best thing you can do. There are even some daily habits you should start during pregnancy to keep you and your baby safe and nourished. Continuing these things postpartum can contribute to maintaining your mental and physical clarity and wellness as a parent.
If you have a high-risk or otherwise exceptional pregnancy, you will likely have a stricter set of care and wellness restrictions throughout your pregnancy. Following your doctor's guidelines is always of the utmost importance, especially when you're pregnant. For women in good health with typical pregnancies, some simple lifestyle changes can help to promote strong health and development of both you and your baby. Always consult your doctor before making changes to your diet and health routines, and be sure not to overdo anything or make drastic changes immediately. Bodies often need time to adjust, and going slow and steady is a good way to become healthier.
In effort to provide the best care for your little ones, don't neglect yourself. After all, if you are weary and weak, how well will you be able to parent? Self-care has become recently trendy for a good reason — your own health and wellbeing has to be prioritized in order to be the best you for those around you. These habits can start you on a good path.