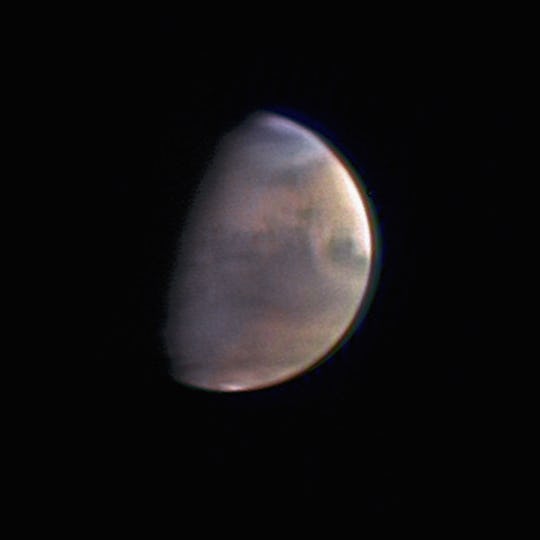 Getty Images/Getty Images News/Getty Images
6 Differences Between Mars & Mercury Retrograde Every Stargazer Should Know
If you don't live under a rock, you've probably heard that Mars is in retrograde. But what does that actually mean? I've heard people talk about Mercury in retrograde as the root cause of their kids' bizarre behavior, or a particularly bad day at work, but I've never actually heard of Mars in retrograde. Is it essentially the same, or are their differences between Mars and Mercury in retrograde? Here's what you need to know, especially if you fancy yourself a stargazer.
According to NASA.gov, a planet like Mars or Mercury "being in retrograde" simply means that it appears to move backwards in the sky for a few weeks. The same sites notes that planets in retrograde aren't actually moving, they just appear to move because of where they are in relationship to the Earth in their normal orbit around the sun. So, in terms of astronomy, the main difference between Mars and Mercury retrograde is the planet involved. And while Mercury is in retrograde four times a year, Mars only appears that way once every 26 months.
Astrologically speaking, there are a few other key differences. According to Astrology.com, astrologers believe that planets in retrograde can impact everyone, but especially those people born under certain signs and depending on where the planet is in the sky when it happens. Nylon.com reports that Mercury in retrograde is known to cause challenges on the technology and communication fronts. Because Mars is the planet associated with war and sex, according to Astrologer Judith Auora Ryan, Mars in retrograde can seriously impact your sex life... and not in a good way.
To learn more about differences between Mars and Mercury in retrogrades and how they might impact you in certain areas of your life, read on: