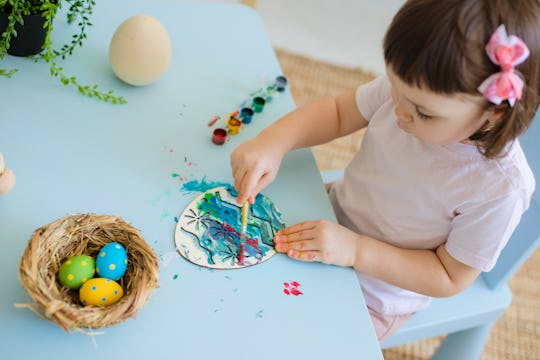 shangarey/Fotolia
6 Easter Ideas For Toddlers, Because You're As Excited As They Are
With its chocolate bunnies and colorful eggs, who is Easter for, really, if not a toddler? After a long winter trapped indoors, you know they're just dying to gambol in the grass, scavenge for hardboiled eggs, and eat lemon squares on an Easter picnic. And if this is your first Easter with a young child, you're truly in for a treat. Here are six Easter ideas for toddlers, inspired by the very best the internet has to offer, in dozens of perfect pastel shades.
I want to share my very favorite idea for the youngest toddlers with you right up front, because why should you wait? Country Living picked up on this genius, which first appeared in Celebrations At Home. For little ones, tie balloons to the eggs in the yard. The balloons will look great — especially in springy pastels — and as your child goes from balloon to balloon, the eggs will be easier to find. Also, when every egg has a flag, there's no reason to worry about them reaching into toddler-unfriendly spaces (like under the porch, or into the garden shed).
Honestly, almost no matter what you do, your toddler is going to have a blast this weekend. Break out the camera, and get ready for gleeful shrieks and sugar crashes, because this is happening. Happy Easter.