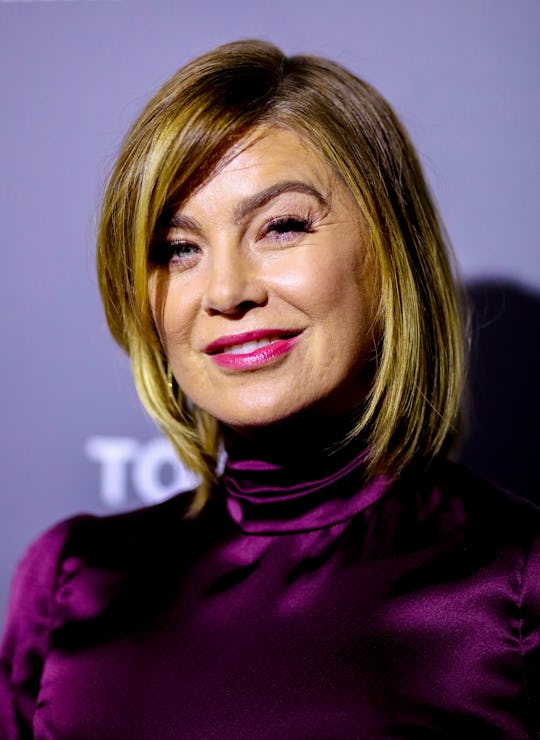 Mark Davis/Getty Images Entertainment/Getty Images
Ellen Pompeo Quotes On Motherhood Are So Fierce
Grey's Anatomy's Ellen Pompeo just surprised everyone with the addition of a third baby to her brood with husband Chris Ivery. The new baby boy, named Eli Christopher, joins siblings Sienna, who is 2 years old, and 7-year-old Stella. Pompeo has regularly used her celebrity platform to speak out on issues about which she's passionate, and motherhood is no exception. Here are six Ellen Pompeo quotes about motherhood that show what a fierce woman she is both on- and off screen.
Pompeo is notoriously secretive about her private life. She kept her wedding, officiated by New York Mayor Michael Bloomberg, under wraps for days before making the happy news public, according to the Daily Mail. She also waited to announce the birth of daughter Sienna for a few weeks to protect the privacy of their couple's surrogate, according to US Magazine. The announcement that Eli was joining the family came after husband, Chris was spotted carrying around the baby, which the actress later confirmed was, in fact, theirs, the Daily Mail reported.
But for all of her interest in keeping certain things private, Pompeo has never shied away from talking about the aspects of motherhood she cares about most. Here are just a few of her most powerful quotes about raising her kids.
1. On The Surrogate Who Carried Her Daughter, Sienna
Pompeo told Us Weekly in 2014:
This is an incredible thing to do with your life, to give the gift of carrying someone's child. I am forever grateful and feel very blessed and grateful to her — she who will remain anonymous. I was there with her when they inseminated her, and we held hands. I looked into the microscope and I saw the embryo. I saw the baby, and they put it in a thingy and they inseminated her. And then we held hands and we prayed, we talked to God, and if she was meant to be. He said he was going to try to help us out and now we have a gorgeous baby girl.
2. On The Guilt She Felt For Her Love Of The Twins Who Played Her TV Daughter Lola On Grey's
"No, I feel really bad. I really feel like I'm cheating on Stella, I feel terrible," she told E News in 2012. "They're adorable, but I really do feel guilty."
3. On How Strongly She Felt About Showing Transracial Adoption On Grey's
"'We have to offer something to people who are relating to this... There's got to be a strength brought to the issue," she said in 2011, according to the Daily Mail. "'No one can say anything to me because I had a baby of color."
4. On Happiness
"Happiness is not that easy to achieve, but having a handsome husband, a beautiful baby, and a great job helps," she told TV Guide in 2010, according to People.
5. On Pregnancy & Weight Gain
"I went up a pants size during my pregnancy," Pompeo told Self about her pregnancy with oldest daughter Stella. "I was in size 25 jeans and went to 26. I gained 26 pounds."
6. On Raising Girls Of Color
"My daughters are black so it's very important to me that they see a lot of images of beautiful, powerful, strong black women," she told People in 2016. ""Every time there is a black woman on a magazine cover, whether it is Kerry Washington or whoever it is, I make sure that magazine is in my house and on my table. For me, that's super important."
Congratulations to Ellen and the rest of her family. Eli has been blessed with one fierce — and talented — mama bear.