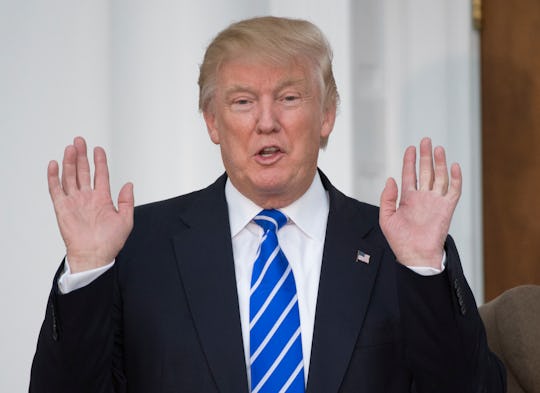 DON EMMERT/AFP/Getty Images
6 Environmental Organizations To Donate To In Light of A Trump Presidency
Every indication from President-elect Trump and his administration is that the environment isn't going to be a top concern over the next four years. From rolling back regulations on the biggest contributors to greenhouse gases to green lighting controversial projects including the Keystone and Dakota Access pipelines, Trump has been clear he will be on the side of big business, big oil, and big energy, not the Environmental Protection Agency. If you are someone concerned about conservation, here are six environmental organizations to donate to in light of a Trump presidency.
According to On The Issues, Trump told Fox News in Oct. 2015 if he were elected he would cut the EPA altogether. "Environmental Protection, what they do is a disgrace," Trump said, according to On The Issues, "Every week they come out with new regulations." When asked who would then be put in charge of protecting the environment, Trump replied, "We'll be fine with the environment," Trump added. "We can leave a little bit, but you can't destroy business."
When it comes to global warming, Trump doesn't believe it's man made and has vowed to break the Paris climate agreement signed by President Obama and designed to combat global pollution, according to the Business Insider.
Trump doesn't just not believe global warming isn't real, he tweeted in 2012 that it was nothing more than an elaborate charade.
If you disagree with Trump and believe environmental issues and conservation are important to our country, here are a few charities that could use your donations to push back against the incoming administration.
1. Greenpeace
The home page of Greenpeace's site proclaims "Together We Are Stronger Than Trump," to put to rest any doubts donors might have about their intention to take on the President-elect. The activist group has current projects going to save the Arctic, protect forests, fight global warming, and push to get corporate money out of politics.
2. Natural Resources Defense Council
The well-known and well-regarded NRDC is committed to protecting "wildlife and wild places." The organization's call for donations after the elections reads, "Help us gear up to defend our environment and climate from the Trump presidency."
3. Union Of Concerned Scientists
Give to the Union of Concerned Scientists to help it launch campaigns to "put science in front of policy makers."
4. Sierra Club
The Sierra Club is also trying to load up its war chest for the next four years to "Fight Back Against Trump." The group works on preservation and conservation activities, as well as trying to limit fossil fuel consumption.
5. Earthjustice
This tagline for Earth Justice says it all: "Because The Earth Needs a Good Lawyer." The non-profit has been hauling polluters to court for more than 40 years, the group says, and is ready to take on Trump and his policies.
6. Conservation Fund
The Conservation Fund works along with business to create solutions for conservation and sustainability that makes good economic sense. The group is currently partnering with Apple to protect more than 30,000 acres of Maine forest.
If you care about the environment, there are plenty of groups ready to mount a fight against the Trump administration and it's reported lack of interest in protecting the planet. If you're still reeling after the election, this is something you can do to help.