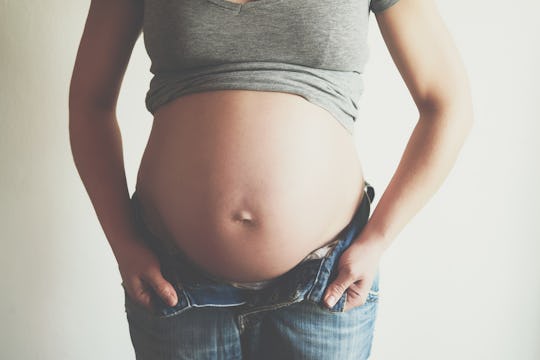 sianstock/Fotolia
6 Factors That Increase The Risk Of A Heart Attack During Pregnancy, According To Experts
Pregnancy puts a lot of added stress on the body. Not only are you dealing with the usual aches and pains associated with growing another human being inside your body, but certain factors during pregnancy can increase your risk of experiencing other health problems. For example, even if you don't have a history of heart problems, there are things that increase the risk of a heart attack during pregnancy that every expecting mom should be made aware of.
Cardiologist Dr. Suresh Sharma tells Romper via email that there's a definitive gender gap when it comes to diagnosing a heart attack between men and women. This is especially true when comparing pregnant women and non-pregnant women, because the signs of a heart attack may differ. Two separate surveys, and an additional 150 new cases of heart attacks associated with pregnancy, found that otherwise healthy pregnant women who suffered a heart attack "didn't present with traditional cardiovascular risk factors, such as high blood pressure, diabetes or high cholesterol levels."
The American College of Cardiology states that, due to the "dramatic shift in hormones" and increase in blood volume pumped through the body during pregnancy, a woman's risk for heart attack increases seven percent — two to three times higher than non-pregnant women. According to the Mayo Clinic, blood volume levels increase by 30 to 50 percent during pregnancy, to ensure the fetus receives the nutrients it needs to grow. As a result, the heart pumps faster and a pregnant person's heart rate increases.
Don't let the aforementioned numbers frighten you, though. While a pregnant woman is at a greater risk for a heart attack than a non-pregnant woman, a heart attack only happens in 1 out of every 16,000 deliveries. Diagnosing any potential problems is critical, and so is knowing the factors that might increase your risk of having a heart attack during pregnancy, including the following: