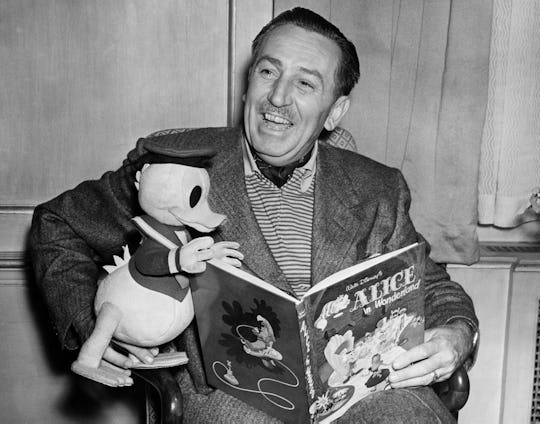 Hulton Deutsch/Corbis Historical/Getty Images
A Love Of Trains, Goofy & More Fun Facts About Walt Disney To Share With Your Kids
Ah, birthdays. Who doesn't love a good cake cluttered with candles? While Dec. 5 may not be the birthday of anyone you know, there's still good reason to celebrate: it's the 118th birthday of American animator and visionary Walt Disney. You can mark Walt Disney's birthday with your kids by sharing these fascinating facts with them before watching your family's favorite Disney flick.
Born in Chicago on Dec. 5, 1901, Disney was the fourth of five children, according to Biography.com. When he was just 4, his family moved from the Windy City to a farm in Marceline, Missouri. Roughly five years later, the family moved again, this time to Kansas City, where Disney helped his father run a newspaper route. But eventually, the family found themselves back in Chicago, where Disney dropped out of high school to join the Red Cross Ambulance Corps during World War I.
After the war, Disney returned to the United States to pursue a career in animation, Biography.com explains. After a somewhat rocky start, Walt Disney Studios was born. Nowadays, Disney is credited as being one of the world's most prolific filmmakers having created a number of animated shorts and feature films.
In honor of what would have been his 118th birthday, here are six facts about Disney, the creator, to share with your kids: