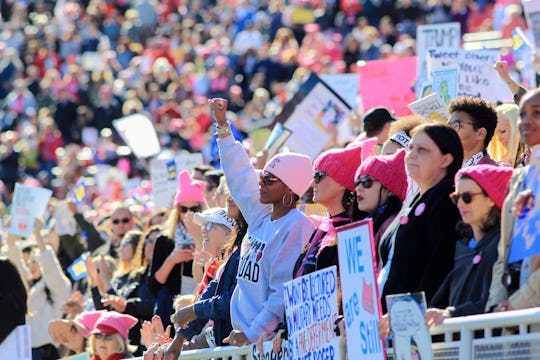 Sam Morris/Getty Images News/Getty Images
In Honor Of Women's Equality Day, Here Are 6 Interesting Facts To Know
August signals a lot of things, like the unofficial end of summer and the beginning of a new school year. It also has some pretty cool days hidden within it. And today, Sunday, Aug. 26, is a day that pays homage to women's history so, to celebrate with these six facts about Women's Equality Day that everyone should know.
Women's Equality Day was recognized under law back in 1973, according to the National Women's History Project. The National Women's History Project noted that it was originally presented by Rep. Bella Abzug, a Democrat from New York also known as "Battling Bella." The United States House of Representatives' archives notes that she was a feminist and civil rights advocate. "She gained notoriety as one of the most colorful and controversial House Members during the 1970s," the archive noted.
It's no surprise, then, that Abzug introduced the idea of Women's Equality day. However, it took an additional two years, up until 1973, for Congress to officially recognize Women's Equality Day.
Guaranteeing women's rights continues to be an issue, even in 2018. In the United States, women continue to fight for reproductive rights, equal pay (aka addressing the wage gap), and against other forms of abuse, like sexual violence. Women of color also fight along the intersections of both race and gender.
As women celebrate today, here are some interesting facts about Women's Equality Day.