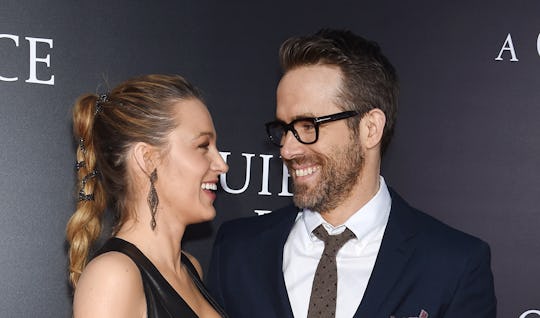 Jamie McCarthy/Getty Images Entertainment/Getty Images
These Fun Facts About Blake Lively & Ryan Reynolds' Relationship Are Too Adorable
It seemed like an unlikely pairing: a Gossip Girl star with a lifestyle brand marrying Van Wilder? What exactly do they see in each other? But it worked, and now they're one of Hollywood's cutest couples. You may think you know everything about them already, but I've got some fun facts about Blake Lively and Ryan Reynolds' relationship that will make you love them even more and wonder how you can score a Blake or Ryan of your own (or just turn your current partner into one of them).
You may already know that they met in 2010 while filming Green Lantern together, but that's not when they first started dating. At that time, Lively was dating her Gossip Girl costar Penn Badgley, and Reynolds was married to Scarlett Johansson. But that's not too exciting. You may also be aware that the couple share two daughters together, 3-year-old James and 1-year-old Inez, whom they're famously protective of. But lets get down to the more interesting stuff:
Their First Date Wasn't Actually *Their* Date
About a year after Green Lantern had wrapped, Reynolds and Lively were both single again, so they went on a double date — but not with each other. Lively was with another man, and Reynolds, another woman. But it didn't work out, Reynolds said, according to People. "It was like the most awkward date for the respective parties because we were just like fireworks coming across."
They Troll Each Other Mercilessly
If you're looking for a laugh, check out the couple's Instagram accounts, where they're constantly subjecting each other to some good-natured ribbing. When Reynolds was named one of Time's 100 Most Influential People in 2017, Reynolds congratulated him with a photo — sort of. "Congratulations to the most influential person in my life," she captioned the post. "The best man I know... you deserve this @time 100 honor ... If only my husband wasn't blocking you in this shot. I'm so sorry @johnlegend"
They don't hold back on birthdays, either. For Lively's birthday that same year, Reynolds posted a picture of the couple together, with his wife's face mostly cropped out, and she got him back two months later by doing the same to a photo of Reynolds and Ryan Gosling.
They Give The Most Amazing Presents
Get ready to be extremely jealous of the couple's gift-giving skills. Reynolds once told Cosmopolitan:
I'm definitely a romantic. I once made a video of all my wife's favorite people, from kindergarten all the way to present, and set it to music. I edited it so all these people throughout her life were singing the same song.
And Lively told Vogue that she once made him "a collection of short stories written by loved ones." So sweet!
She's His Twitter Comedy Manager
No, the ridiculous parenting anecdotes Reynolds tweets aren't true, Lively told Glamour. But she approves.
He may as well work for the Enquirer. When he says "my daughter," he's never, ever talking about her. Everything is a completely made-up scenario. He'll run them by me sometimes just to make me laugh. But oh, I'm so in love with him when he writes that stuff. I mean, I'm in love with him most of the time, but especially with that.
They Call Out Each Other's B.S.
That first date story sounds cute, but is it legit? Not completely, Lively told Entertainment Weekly's Jess Cagle, the same person Reynolds originally told it to. In an interview a few months later, she threw her husband under the bus:
Went well for him, there were no fireworks for me. No. We were such good friends for so long and we both got to know each other as friends. It didn't click for a good year and a half. I'm like, "Oh hey, wait. Hold on. We could date."
They're Still Best Friends
Lively and Reynolds didn't switch from being friends to being in love; they just added to their friendship. In his People interview, Reynolds said, "We were buddies for a long time, which I think is the best way to have a relationship, to start as friends." And Lively shared the same sentiment: "That's what I appreciate about our relationship," she said in her follow-up interview published by Entertainment Weekly. "That he's my friend first and foremost."
Marry your best friend. Trust me.