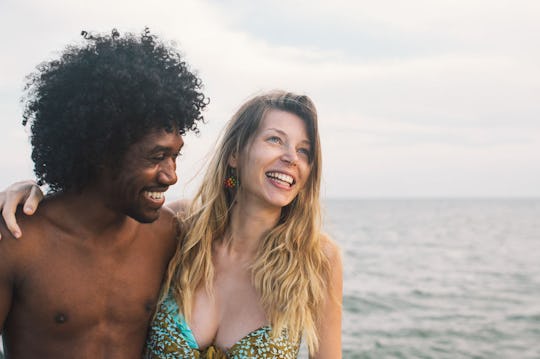 Mosuno/Stocksy
6 Gross Things Couples Do That Can Actually Keep The Romance Alive
Showing your love doesn't have to be all about flowers and chocolates. In fact, there are a few gross things that are actually pretty romantic in relationships. It all depends on your definition of romance, really.
Because at a certain point in a relationship, embracing your comfort level with the other person is what's important. Once you're beyond the whole "I'm totally a perfect person!" facade in the beginning stages, then it's only natural to get more comfy and real with your partner. Hey, no one wants to put up a front forever, so it's pretty cool when you can just let your guard down and be yourself.
Of course, part of that whole being yourself thing tends to come with some weird traits on its own. You're really just another human, which means that stinky feet or sweaty clothes are sometimes part of the territory. But when you and your partner accept one another no matter what, even when you're a little less than fresh, then that's a wonderful sign for the relationship. Here are a few of the gross things couples do when they really, really love one another. That somehow makes everything just a little less gross, to be honest.