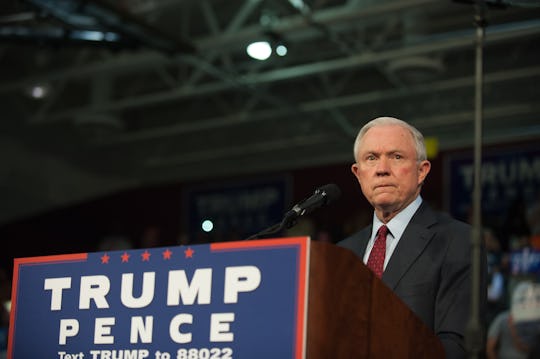 Jeff Swensen/Getty Images News/Getty Images
6 Jeff Sessions Quotes About Race That Reveal What Looks Like Deep-Seated Prejudice
President-elect Donald Trump's pick for attorney general has a sordid track record. The Alabama senator — an early, devout Trump supporter — has a history of saying questionable, racist things. Jeff Sessions quotes about race show that he harbors deep prejudices that have interfered with his ability to do his job in the past: Sessions was denied a federal judge position in 1986 after a series of hearings found him too questionable a candidate.
Ronald Reagan's nomination of Sessions occurred while Sessions was working as an attorney within his administration. Before he was installed, however, a hearing was held by the Senate Judiciary Committee. A transcript of the hearings reveals records of Sessions' racist commentary which, at the time, halted Sessions' nomination, even though the Senate had a Republican majority. Sessions ultimately withdrew, but his political career managed to survive as he became a state attorney general and was later elected a Senator.
Criticisms of the National Association for the Advancement of Colored People (NAACP) and American Civil Liberties Union (ACLU), disrespectfully referring to a black colleague as "boy," and a perceived lighthearted view of the Ku Klux Klan are just some of the moments that paint a picture of the Alabama senator's values. The six quotes below further illustrate why Trump picking Sessions for attorney general worries so many Americans. A request to Sessions' office for comment was not immediately returned.
1. Sessions Called The NAACP & ALCU "Un-American" & "Communist-Inspired" For "Trying To Force Civil Rights Down The Throats Of People"
These allegations were made during Sessions' judiciary hearing. Sessions defended his remarks in saying "such groups could be construed as 'un-American' when 'they involve themselves in promoting un-American positions' in foreign policy," according to New Republic.
2. He Suggested That A White Lawyer Was A "Disgrace To His Race" For Representing A Black Client
When asked whether or not he agreed with the above assertion, Sessions responded: "Well, maybe he is."
3. He Allegedly "Used To Think That [The KKK] Were OK" Until He Learned That Some Of The Members Were "Pot Smokers"
Multiple colleagues said that they heard Sessions say the statement above. In his hearing, however, Sessions told the Senate Judiciary Committee that the assertion was "ludicrous," later claiming: "I am not a racist, I am not insensitive to blacks. I have supported civil rights activity in my state. I have done my job with integrity, equality, and fairness for all."
4. He Allegedly Warned A Black Lawyer: "Be Careful What You Say To White Folks," Calling Him "Boy"
Sessions denied the allegations, which were made in the context of his 1986 hearing.
5. Colleagues Claimed That He Used The N-Word
The Independent reported that Sessions "referred to a black local government official as "the n*****." Sessions defended himself in 1986, claiming: "I am not the Jeff Sessions my detractors have tried to create."
6. He Deemed The Voting Rights Act A "Piece Of Intrusive Legislation"
Sessions has worked to prevent expansion of the Voting Rights Act in the past. Though he "voted to extend the Voting Rights Act when it was last reauthorized by Congress," USA Today reported, he agreed with the recent Supreme Court case that severely limited the protection.
Called "a world-class legal mind" by Trump, Sessions will still need to be approved by the Republican Senate before he officially gets the job. Deciding to pardon Sessions' extensive racism, granting him leadership over the Justice Department, would speak volumes to the civil rights values, or lack thereof, within the Trump administration. In considering the quotes above, though, the choice seems pretty clear.