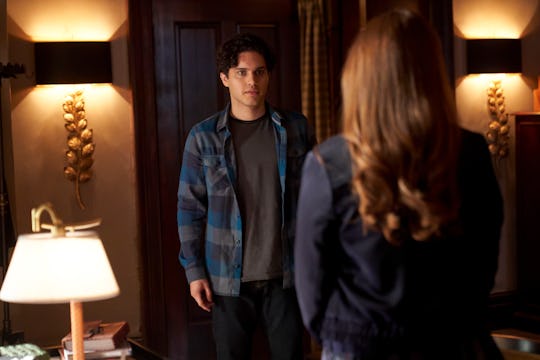 Bob Mahoney/The CW
'Legacies' Fans Are Dying To Know What Landon Really Is
Since the portal of Malivore was awakened on Legacies, The Salvatore School has been plagued with a variety of mythological creatures whose sole purpose is unlock the mysterious void. Landon Kirby's mom revealed that he was conceived in Malivore, but he hasn't shown any supernatural abilities yet. Fans are piecing together clues to come up with their own Legacies theories on Landon and what kind of creature he really is.
What fans know about Landon so far is that he was an orphan who grew up in foster care with Rafael. He had no information about his parents, other than a picture of himself as a baby being held by his mom, Seylah. In Episode 8, Hope helps Landon track his mom down, and when confronted by Alaric, she reveals that she worked for a company that imprisoned creatures to Malivore, and somehow ended up in Malivore herself. She said that when she came out of Malivore she was pregnant with Landon, but she couldn't remember anything that happened when she was there.
It wasn't until Landon came to the Salvatore School that things started going haywire. It wasn't until he unconsciously stole the first key (a knife) that Malivore monsters began descending on the school. Landon still has no idea what he is or how he's connected to Malivore, which is why fans are stepping in to help solve the mystery.