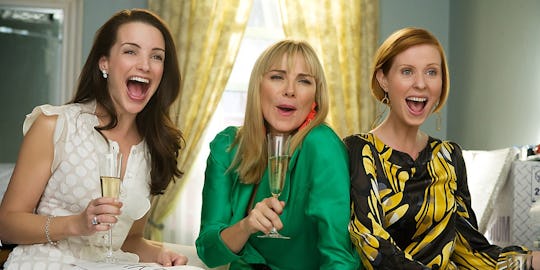 New Line Cinema
Put On Some PJs & Ring In 2019 With These New Year's Eve Movies On Netflix
I have a secret to admit: Spending New Year's Eve with anyone other than Netflix is pretty foreign to me. Oh sure, in college there were parties, and even for a couple of years after. I've rung in the new year at Disney World, and even went to a concert on December 31st once, though it ended before the countdown. But truthfully, there's nowhere I'd rather be than streaming New Year's Eve movies on Netflix with my dog.
Though they're not quite as ubiquitous at Christmas flicks, which flood the Hallmark and Lifetime channels at this time of year, New Year's Eve makes for a pretty romantic setting for a rom-com. That's probably why there's a title bearing that exact name from Garry Marshall (the man behind other holiday-focused films like Valentine's Day and Mother's Day). But sadly, that one isn't available on Netflix.
Still, there are a few juicy offerings, and they range from romantic comedy to musical to gangster drama. So regardless of your mood or taste, there's something here for you. This isn't an exhaustive list by any means, but features some of my personal favorite offerings, and a couple I'm adding to the queue right now. Let's be honest: 2018 was a seemingly never-ending dumpster fire of year. I don't know about you, but I'm pretty tired. I think I'll ring in 2019 on my couch with Netflix and some holiday leftovers.