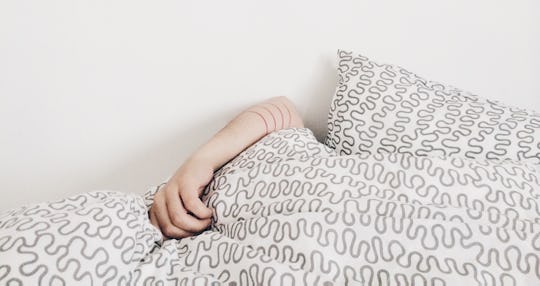 6 New Year's Resolutions For Night Owls, Because Staying Up Late Can Really Work For You
The number one misconception that I am faced with, as a night owl, is that we are lazy. We stay up late doing nothing more than browsing Reddit and snacking. Which, OK, doesn't sound like the worst life if you ask me, and those are definitely two out of many things that we do while we're not sleeping. But there is a lot more to being a night owl than doing nothing; namely, getting things done that just don't seem possible during the noise of the daytime. This could be reading or writing, or even cleaning. I'd be lying, though, if I said that I never get distracted or procrastinate when I'm staying up late. Because I definitely do sometimes, and I know I'm not the only one. Which is why the whole idea of New Year's resolutions for night owls is probably the most perfect thing ever.
I would never suggest giving up the "lifestyle" as a whole — because let's face it, a virtually silent house makes for great concentration — but why not use all of this extra, peaceful time for good, right? Why not find some use in the hours when no one is around to distract us? I'm not saying it's going to be easy to cultivate this extra nighttime time, but I'm sure it's plenty worth it to get in the habit of getting enough sleep while still staying up late, or incorporating some healthier, fresher stuff into the junk food diet of the midnight world. As parents who are night owls, we are gifted with this rare ability to stay up late, get up reasonably early, and still make it through the day without being totally exhausted. This gives us time to make sure the house in order, as we were working or playing all day. Your kid may be snug in bed, secure in the idea that Mommy or Daddy is also tucked into bed like a human burrito, but there are no early nights for night owls. Even ones with kids.