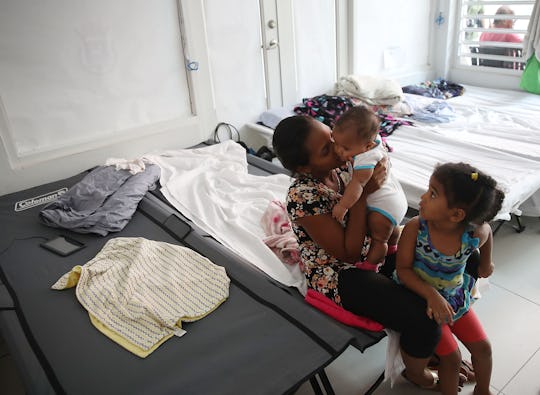 Joe Raedle/Getty Images News/Getty Images
5 Organizations Helping Breastfeeding Moms In Puerto Rico After Hurricane Maria
It was mere weeks after Hurricane Irma ravaged the Caribbean that Hurricane Maria unleashed its wrath on the recovering islands. The devastating storm crashed into Puerto Rico as a Category 4 hurricane last week, causing life-threatening floods, destroying property, and knocking out power. Relief organizations have quickly set up funds to help the U.S. commonwealth recover in the aftermath. If you want to help but aren't sure which group to donate to, consider one of these six organizations helping breastfeeding moms in Puerto Rico after Hurricane Maria.
According to CNN, Hurricane Maria tore through Puerto Rico and Dominica, killing at least 20 people — a death toll government officials on both islands expect to rise. The deadly storm had also left Puerto Rico disconnected from the rest of the world, leaving many people in the U.S. mainland struggling to reach their loved ones on the island, Los Angeles Times reported. In some places, it may take months to get power back, while in most areas, water, food, and fuel are in short supply, according to Vox. Recovery will be a long road for millions of Puerto Ricans, and with no real help from the U.S. federal government.
Save The Children
After Hurricane Harvey and Hurricane Irma hit, Save The Children mobilized quickly to help victims devastated by the storms. Now, the non-profit is collecting donations to help children and families in Puerto Rico in the wake of Hurricane Maria. Save the Children has launched a Hurricane Maria Children's Relief Fund, which help the international children's relief organization gather and disseminate kid-friendly supplies as well as breastfeeding support to nursing moms.
Puerto Rican Leadership Council
According to the Miami Herald, the Puerto Rican Leadership Council, a Florida-based fraternal organization, is accepting donations for diapers, bottled water, clothing, and nonperishable food at a handful of locations in the Miami-area. These supplies will help breastfeeding parents in Puerto Rico keep their children clean, fed, warm, and safe.
La Leche League
La Leche League is an international nonprofit organization dedicated to supporting and advocating for nursing parents. Breastfeeding moms in need after Hurricane Maria can reach out to one of La Leche League's local groups in Puerto Rico for help, supplies, and support.
National Voluntary Organizations Active in Disasters
The National Voluntary Organizations Active in Disasters (VOAD) is helping coordinate supply and cash donations for the government of Puerto Rico, according to PBS. The Puerto Rican government lists baby formula, baby wipes, blankets, bottled water, diapers, cots, baby and adult pain relief medicine, and first-aid kits — all items that are vital to a nursing parent — among the list of supplies it needs to distribute to Hurricane Maria victims.
UNICEF
Like Save the Children, the United Nations International Children's Emergency Fund (UNICEF) is accepting donations to help the organization's hurricane disaster response in Puerto Rico. UNICEF USA staff is working to develop emergency survival kits to distribute to children and families on the island. According to the organization's site, the emergency kits will include essential supplies such as water purification tablets, a water bucket with lid, water containers, soap, toothpaste, detergent, and sanitary pads. Although the survival kits will not include specific breastfeeding supplies, the items will help nursing parents to take care of their families.
National Diaper Bank Network
The National Diaper Bank Network (NDBN) doesn't have an active affiliate in Puerto Rico, but the organization is working with other relief non-profits to deliver diapers and other supplies to the island. In addition to diapers, NDBN also distributes feminine care, adult incontinence care, baby care, and personal care good to families in need. That can include items that would make it easier for breastfeeding moms in Puerto Rico to care for their little ones as they recover. NDBN is accepting monetary donations to help with hurricane relief.
These organizations are only a handful of nonprofits helping victims of Hurricane Maria recover for the devastating storm. Many other groups, such as the Puerto Rican women's health organization Taller Salud, have launched funds to provide relief to children and families on the island. You could also consider donating to one of the many campaigns launched on fundraising sites such as GlobalGiving, GoFundMe, and Fundly. And it's OK if you can't give a lot; a little bit goes a long way in helping breastfeeding parents, and all parents, get back on their feet after such a catastrophic storm.
Watch Romper's new video series, Romper's Doula Diaries:
Check out the entire Romper's Doula Diaries series and other videos on Facebook and the Bustle app across Apple TV, Roku, and Amazon Fire TV.