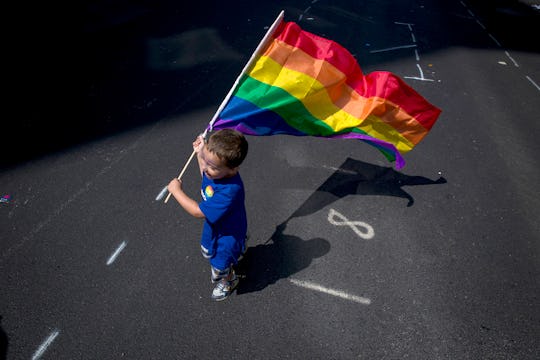 Eric Thayer/Getty Images News/Getty Images
6 Organizations That Support Transgender Kids
After President Donald Trump announced his decision to revoke transgender bathroom protections, many have been left feeling disappointed, outraged, and abandoned. While civil rights groups and legal advocates fight Trump's new order — a decision that rescinds the Obama-era landmark guidance, which allowed transgender students to use the bathrooms or locker rooms that correspond with their gender identity — those who feel they've been left in the dust should remember that there are many organizations that support trans and gender non-binary kids out there, and they can help families cope with this trying time. Additionally, allies can donate to and support these organizations in the wake of moves that rescind the rights of trans and non-binary people.
On Wednesday, the Trump Administration lifted the Obama-era directive issued last May. Now "it will now be up to states and school districts to interpret whether federal sex discrimination law applies to gender identity," according to ABC News.
While this latest decision may threaten to set back years of progress that have helped to make all kids feel welcome and safe in schools, these six organizations are there to remind the vulnerable that they're not alone and can provide an array of services to help families, schools, and politicians better understand that support and acceptance is critical for transgender and gender-non binary kids and teens.
There are many incredible groups out there that support the LGBTQ community and these six organizations specialize in fostering an inclusive world for trans and gender non-binary kids and their families.
Trans Youth Equality Foundation (TYEF)
TYEF, based in Maine, provides a variety of youth-oriented services, including youth retreats, support groups for parents of gender non-conforming children, as well as a regular podcast with interviews from the trans community.
If you're looking for a way to support the organization, you can help sponsor a kid to attend one of their summer or fall camps.
Mermaids
Mermaids, based in the United Kingdom, supports children, young people, and their families through forums — separate ones for parents and teens — as well as helplines and organized meetups.
You can reach them by phone or by email and can make a donation here.
Gender Spectrum
Gender Spectrum, based in the United States, hosts a variety of services and resources, including educational training programs for parents, support groups as well as guidance on legal questions and medical and mental health questions.
"Actions like the one taken today come from a lack of understanding – of gender, of the needs and experience of transgender students in schools, and of the more than a decade of success educators have had in addressing these issues in schools all over our country," Lisa Kenney, executive director of Gender Spectrum, said in a statement following Trump's new order.
You can make a donation here.
Camp Aranu'tiq
Camp Aranu'tiq, founded in 2009, offers a nonprofit program that consists of summer camps and weekend camps for gender-variant kids and their families in New Hampshire and California. "Our camps build confidence, resilience, community, and offer a place where campers can be their authentic selves," according to the organization.
If you want to know more about the camps or support Camp Aranu'tiq, you can contact the organization here or make a donation here.
The Trevor Project
Founded in 1998, this organization is the nation's leading crisis intervention and suicide prevention provider for lesbian, gay, bisexual, transgender, and questioning (LGBTQ) young people between the ages of 13 to 24. The Trevor Project offers educational resources for middle school and high school teachers as well as a comprehensive support center.
You can make a donation here.
Human Rights Campaign (HRC)
HRC is the largest LGBTQ civil rights advocacy group and political lobbying organization in the United States. Founded in 1980, the organization campaigns for transgender rights and provides an array of guidelines and information for parents of transgender and gender non-conforming youth.
HRC also has an extension project called Welcoming Schools, which is a program "dedicated to creating respectful and supportive elementary schools in embracing family diversity, creating LGBTQ-inclusive schools, preventing bias-based bullying, creating gender-expansive schools, and supporting transgender and gender non-conforming students," according to the organization.
You can make a donation here.
A support system, whether it come from outsiders or parents, can make all the difference for the many vulnerable people who have been affected by Trump's new bathroom order. No matter what agenda the White House plans to push forward next, these incredible organizations are here to let transgender and non-binary kids and their families know that they haven't been forgotten.