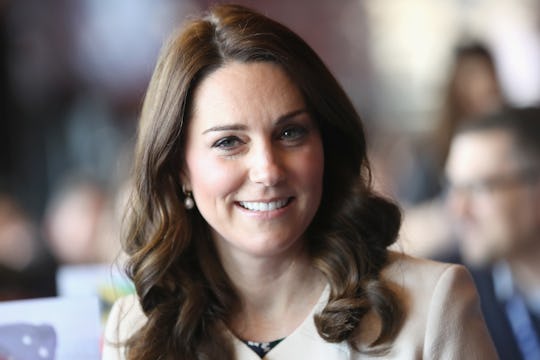 Chris Jackson/Getty Images Entertainment/Getty Images
6 People Kate Middleton Is *Actually* Related To That Will Have Your Head Spinning
Everyone knows Kate Middleton's rise to royalty. Her real life fairytale is what dreams are made of. But what you may not know is how far her family tree extends. From founding fathers to British royalty and everyone in between, these conspiracy theories about who Kate Middleton is related to show that she has some pretty impressive relatives.
Middleton married Prince William on April 29, 2011, marking her entrance into the royal family. Her story, while not exactly rags-to-riches was unique enough to captivate the world and she continues to do so from the palace. Without royal status, she was technically a commoner. This fueled the interest in her own family.
Her parents are Michael and Carole Middleton, owners of a multimillion-dollar party supplies company, according to TLC. Their business success allowed Kate to enjoy a rather privileged childhood, including private schooling and social events. Kate's sister, Pippa Middleton, has also caught the public's eye. But her immediate family members aren't Middleton's only interesting relatives. Some of her more distantly removed cousins are certainly worth noting.
George Washington
Aside from her connections to British government, Kate has ties to the New World as well. The New England Historic Genealogical Society in Boston released a book on the Duchess of Cambridge's ancestry that states she and George Washington are eighth cousins seven times removed, according to E! News.
Along with America's first president, the same book states that Kate is a distant cousin of Francis Scott Key, the author of "The Star Spangled Banner." How patriotic.
Ellen DeGeneres
Princess Kate has a current relative across the pond, America's Queen of Comedy, Ellen DeGeneres. She and Kate are 15th cousins, according to The Mirror. They are tied together by a man by the name of Sir Thomas Fairfax and his wife, Agnes Gascoigne, a couple who lived in the United Kingdom in the early 1500s.
DeGeneres told the The Mirror that she is well aware of their family ties, even if Kate isn't:
Kate Middleton and I are distant cousins and I don't know if she thinks I'm joking, but I'm going to confront her. She refuses to admit it and I don't know why. But I am going to be at Wimbledon and if my cousin Kate is there I'm going to bring the DNA chart with me.
Look out, Kate!
Dakota Fanning
Along with DeGeneres, Kate is also related to Dakota Fanning and her sister Elle Fanning, according to Marie Claire. Research conducted by Ancestry.com found that the Fannings are related to King Edward I, as is Kate. This makes them the Duchess's distant cousins.
Mary & Anne Boleyn
Kate's ties to the British monarchy go back a little further than her marriage to Prince William. She is a descendent of Mary and Anne Boleyn as well, according to The Spectator. As a relative of Sir Thomas Leighton, and his wife, Elizabeth Knollys, the Duchess is tied to Henry VIII's second wife, Anne Boleyn. Knollys is Anne's great niece and also the illegitimate granddaughter of King Henry himself, The Spectator reported. Before his marriage to Anne, Henry VIII had a long and torrid affair with her sister Mary, during which she bore two children: Catherine (who is also Kate Middleton's ancestor) in 1524 and Henry in 1526.
Prince William
Kate isn't the only one related to Sir Thomas Leighton — her husband is as well. Leighton, an Elizabethan soldier, diplomat, and Governor of Guernsey, is Prince William's 12th generation great-grandparent. He's also Kate's 11th, which make William and Kate 12th cousins, once removed, according to Daily Mail UK. This technically makes her a relative of William's grandmother, the Queen, as well. But before you cry "kissing cousins," keep in mind that the blood bond is very watered down.
Jane Austen
My personal favorite branch of Kate's extends to one of England's most famous female authors: Jane Austen. Ancestry.com reported that the Pride and Prejudice author and the Duchess of Cambridge are 11th cousins, six times removed. Their common ancestor is Henry Percy, the 2nd Earl of Northumberland in the 15th Century, according to Reuters.
Anastasia Harman, lead family historian for Ancestry.com, told the outlet that Kate's connection to Austen is kind of perfect:
Finding this connection between the Duchess of Cambridge and Jane Austen is very exciting since, in many ways, Catherine is the modern Jane Austen heroine: a middle class girl marrying the future King of England.
But while Austen's heroines exist only on the page, Harmen added that Kate's story is even sweeter, according to Reuters:
Jane Austen may have written about happily-ever-after but it seems Catherine has found a nonfiction hero to spend her life with — far past the epilogue.
Kate has a lot of appeal on her own, but these family ties do add to her intrigue.