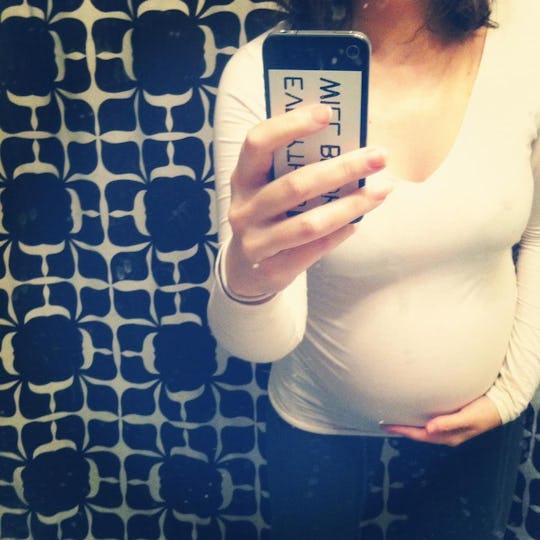 Jessica Blankenship
6 Reasons Body Image Issues Hit So Many Women Hardest During Pregnancy
As a woman who has spent the majority of her life trying to fight against body image issues, I knew what a challenge my body image during pregnancy might be for me. I think this is the case for a lot of women. After all, for most women, there will be no other time in their lives when the size and weight difference that they experience between month one and month ten in a given year be any larger.
So I walked into pregnancy assuring myself that I would eat well, that I would exercise, and that I would love my body. The miracle that I was creating was worth all the challenges, right? I would indulge the occasional craving, but try my best to stick to my goals. I wouldn't push myself too hard when exercising, but I would keep at it. And then I would lose the baby weight more quickly after giving birth.
Man, I had goals like crazy. Let me tell you well all of that worked out.
I felt guilty, I felt justified, I felt tired, I felt so damn hungry all the time, unless I felt like I was going to throw up. I craved healthy foods like seaweed salad and citrus fruit...but I also craved burgers and cupcakes. And through it all, I questioned how fast I was gaining weight, how much, and why I saw some women who were able to pull on their normal jeans at 8 months pregnant and just not do up the zipper, when I couldn't get them over my (seemingly) gigantic ass.
So despite best-laid plans, my brain, emotions, and body were at war throughout my pregnancy, because there's no getting around the blunt truth about your relationship with your body during pregnancy: it's just hard. If you're having a difficult time as well, don't worry, you're not alone. In fact, if I had to guess, I'd bet that even those women for whom "body changes" meant just not zipping up their jeans have many moments of questioning, doubting, and fearing everything going on with their bodies. Here are a few thoughts about why body image issues might hit so many pregnant women so hard: