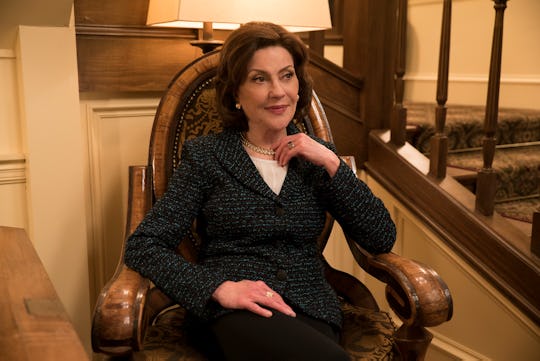 Saeed Adyani/Netflix
6 Reasons Why Emily Gilmore Of 'Gilmore Girls' Was Actually The Hero Of The Show
All due respect to Lucille Bluth, but Emily Gilmore was the original out-of-touch privileged grandmother to capture our hearts, even as we were mildly horrified by her. Lorelai might not like it, but I have six ways Emily Gilmore was secretly the best on Gilmore Girls. Famous for her excellent taste, her sense of propriety, and her ability to throw a killer party (at least for the DAR and Yale alum set), she was less than warm to Lorelai growing up, creating some deep-seated resentments between them. Despite all of that, Emily's real defining characteristic is her love for her daughter and granddaughter. And if you're thinking of hurting one of her girls, well then God help you.
We know that the Netflix revival of Gilmore Girls will begin nine years after the last episode aired, with Emily, Lorelai, and Rory dealing with the loss of Richard, Emily's husband of some 40 odd years. While his death will affect all three Gilmore Girls, Emily's life will have changed the most, for obvious reasons. I predict she will deal with this blow with strength, as she does most things, but it will perhaps be most fascinating to watch how her relationships with Lorelai and Rory shift after this major change. After all, Gilmore Girls is a show about family more than anything else. In honor of Emily, and of Richard, here are the six ways that Emily is actually #lifegoals.
She Takes Nothing Lying Down
Emily is not the type of woman you want to cross. She is most vulnerable when she's reaching out to her daughter, but we truly saw her as a victim for the first time in her interactions with Richard's mother, Trix. The matriarch tended to criticize nearly everything Emily did. In a subtle, beautiful strike back, Emily once made a single green bean last an hour at dinner, making her mother-in-law wait instead of sticking to her desired 12 minutes per course.
She Is Fabulous As Hell
In the show, we hear about Emily's excellent taste almost as often as we hear about Luke's excellent coffee. Even when Emily is having an emotional breakdown, she does it with killer style.
She's A Fierce Mama Bear
Emily knows how to stick up for herself, but she's even more vicious when she's sticking up for Lorelai or Rory. Just look at that face she makes right before she verbally eviscerates Mrs. Huntzberger after her despicable treatment of Rory.
She's Not As Uptight As She Seems
Emily may be a stickler for propriety, but she's not going to let that hold her back if it's necessary. In their most hilariously epic fight ever, Richard is shocked when his wife declares she's going to Europe where she will, gasp, have two glasses of wine with lunch. When Richard, appalled, says that only prostitutes have two glasses of wine with lunch, Emily replies, "Well then buy me a boa and fly me to Reno because I am open for business," because she is the best.
She's Got A Heart Of Gold
Emily gets a lot of flack for being cold and distant, but she's really just a big old softy at the end of the day. Her entire personality can perhaps most succinctly be seen when Richard has a health scare in Season 1. There, Emily demands that she die before he does because she can't live without him.
She Knows How To Have A Good Time
Girls just wanna have fun, and Emily is no different. Just look at the joy on her face as part of the mother-daughter duo in Chilton's fashion show. Look at that adorable dance. This is Emily getting down, and it is beautiful.