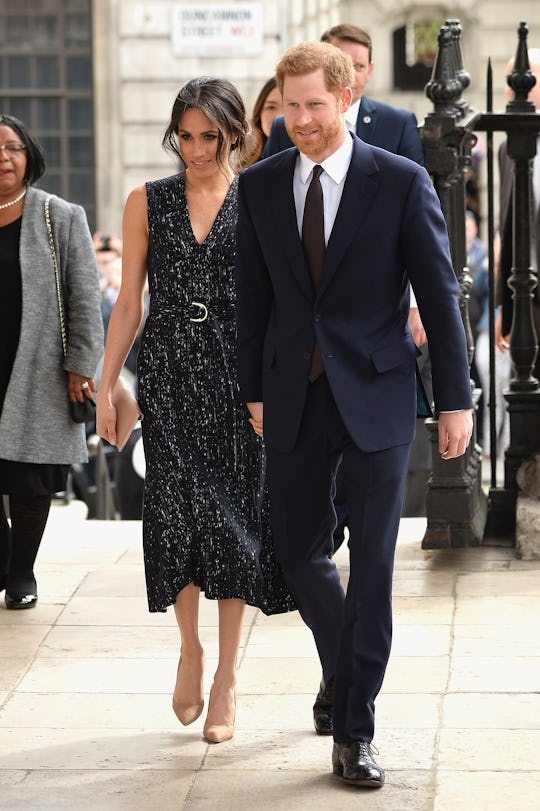 Jeff Spicer/Getty Images Entertainment/Getty Images
6 Past Royal Honeymoon Destinations Prince Harry and Meghan Markle May Want To Consider
The upcoming royal wedding has been big news ever since Prince Harry and Meghan Markle first announced their engagement back in November, but excitement is definitely ramping up now that the big day is less than two weeks away. The couple won't actually be heading off for a luxurious honeymoon to decompress from the pressure of their highly-anticipated wedding though — Kensington Palace recently confirmed the couple has decided to delay their post-wedding vacay to focus on royal duties. But if they're looking for travel inspiration, these 6 royal honeymoon destinations might be a good place to start — though some do seem a bit more appealing than others.
Marrying into the British royal family might seem like a fairytale, but there are still some downsides. Public royal life is all about tradition, protocol, and etiquette, after all, and so far for Markle, it's also meant planning a wedding that the entire world will be watching and critiquing (no pressure!). As he is now sixth in line for the throne, Prince Harry does at least seem to be able to enjoy a bit more of a laidback life, and together, he and Markle seem to be set to do things a little bit differently. But while we likely shouldn't expect them to take a very traditionally regal honeymoon aboard a royal yacht like Prince Charles did when he married Princess Diana, it does seem reasonable to expect whatever they do choose will be pretty fancy.
The Seychelles
It turns out the Prince Harry and Meghan Markle won't actually be the first royal couple to postpone their honeymoon: after Prince William married Kate Middleton in 2011, they had to wait a few weeks to head off to the 10-day honeymoon in the Seychelles, as Prince William had to return to work as a search and rescue pilot in Anglesey, Wales, according to The Telegraph.
It definitely sounds like the trip was worth the wait, though. The secluded Indian Ocean islands offer both a luxurious beach getaway, as well as the option for total privacy. When they returned, Kensington Palace released a statement on behalf of the couple, according to People, in which they expressed gratitude "to the Seychelles government for their assistance in making the honeymoon such a memorable and special 10 days."
Royal Yacht Britannia
Although the royal family could presumably honeymoon just about anywhere in the world, the preference for upholding tradition is clearly seen by the fact that a number of royals chose to honeymoon on the Royal Yacht Britannia.
Princess Anne, Queen Elizabeth II's daughter, chose to honeymoon on board the royal yacht when she married Captain Mark Phillips in 1973, according to The Express, as did Prince Charles and Princess Diana in 1981, and Prince Andrew and Sarah Ferguson in 1986.
Scotland
After Queen Elizabeth II (then Princess Elizabeth) married Philip Mountbatten (aka Prince Philip, the Duke of Edinburgh) in 1947, they decided to remain fairly close to home, honeymooning at Birkhill Lodge on the Balmoral Estate in Scotland, according to Town & Country. Years later, in 1999, Prince Edward and Sophie Rhys-Jones (now Sophie, the Countess of Wessex) also chose Birkhall Lodge, though it likely had a lot of sentimental meaning to the prince at that point — Balmoral is also where there royal family gathers for Christmas each year.
Cyprus
Though she's the first cousin of Prince William and Prince Harry, Zara Phillips doesn't actually have a royal title. And that could be one reason why she opted to do her own thing after tying the knot with rugby player Mike Tindall in 2011: they chose to honeymoon on the island of Cyprus, according to The Express.
Tanzania
They may not be British royals exactly, but the honeymoon destination chosen by Denmark's Prince Frederik and Mary Donaldson (now Princess Mary) seems to be a much more likely pick for Prince Harry and Markle. The Danish royals chose Tanzania for their honeymoon in 2004, according to Town & Country, which is only a short flight from Botswana, the Africa nation where Prince Harry and Markle spent five nights camping under the stars, not long after they began dating, according to BBC News.
Namibia
Could Namibia become the newest royal honeymoon destination? It's possible. Travel + Leisure magazine has reported that Prince Harry and Markle will in fact travel to Namibia for their eventual honeymoon, and that they will likely stay at Hoanib Valley Camp, a luxury camping resort.
As exciting as the royal wedding certainly is, if I were Markle, I think the honeymoon would be the part I would be looking forward to most. Luckily, royal honeymoon destinations seem to have diversified in recent years (nothing against Scotland, but Kate and William totally made the right call with a private island), and that leaves the door wide open for Prince Harry and Markle to plan their own special getaway. But first, the couple has their wedding to get through — and there will no doubt be plenty of people cheering them on.
Check out Romper's new video series, Bearing The Motherload, where disagreeing parents from different sides of an issue sit down with a mediator and talk about how to support (and not judge) each other's parenting perspectives. New episodes air Mondays on Facebook.