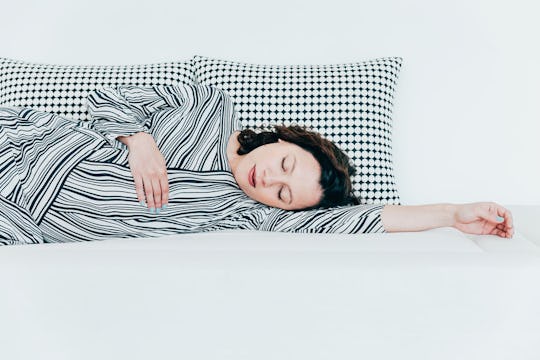 Vera Lair/Stocksy
Here's How A MFM Specialist Wants You To Treat Those Early Pregnancy Headaches
The first trimester of pregnancy isn't always the most enjoyable time for expecting moms. Some women deal with terrible nausea, others experience awful bloating, and some are bothered by aggravating headaches. If you fall into that last category, you should know that there are tons of safe and effective first trimester headache remedies that can bring you some relief.
Pregnancy headaches can be triggered by many different things, according to Dr. Angela Bianco, an OB-GYN and maternal-fetal medicine specialist who specializes in high-risk pregnancies in the Mount Sinai Health system. "It's important for women to think about when headache occurs, and what precipitates it," she tells Romper, in order to figure out the best way to fight it.
Sleep deprivation and stress are just two common causes of first trimester headaches, according to Dr. Bianco, and the dreaded morning sickness can be a trigger, too. "For some women pregnancy is a very stressful time in their life… It can be fraught with very high stress levels, and stress can precipitate or exacerbate headaches." She adds, "Many patients have sporadic and intermittent nausea and vomiting with related relative dehydration, and that can also cause headaches."
No matter what the cause is of your cranial discomfort, one of these five simple solutions could make a major difference for you.