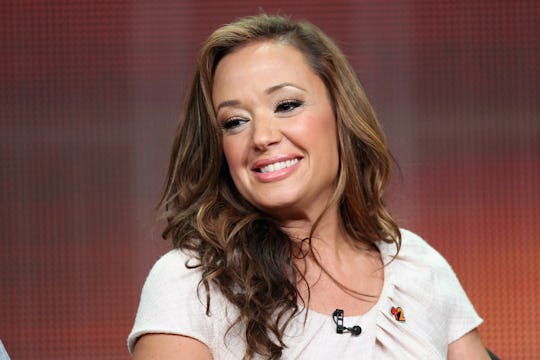 6 Scientology Claims From Leah Remini's 'Troublemaker' That Are As Shocking As They Are Surprising
Since Leah Remini left Scientology in July 2013, the actress has been one of the most outspoken critics of the church. Such an outspoken critic, in fact, that the The King of Queens star has taken quite a bashing from members of Scientology — even before the tell-all book hit shelves. So now that Leah Remini's Scientology revelations from Troublemaker: Surviving Hollywood and Scientology have been released, we get to see just what is making so many people angry... and boy, oh boy, are her claims juicy.
For months, Remini has braced herself for the Troublemaker backlash. Though press and fans have seen leaks from the read, the full book gives us the full scoop. And by "full scoop," I mean mostly scoop about the man who is probably the most famous Scientologist of all time, Tom Cruise, who also "prepared for the worst" when it came to the book. (Cruise's rep has not yet responded to Romper's request for comment. As for The Church of Scientology's response to Remini's statements? "It comes as no surprise that someone as self-absorbed as Leah Remini with an insatiable craving for attention would exploit her former religion … She is rewriting history.") 
So what exactly did Remini say in her book? Read six of the most shocking claims from the book below. 
She Had To Put Down Big Bucks To Meet Tom Cruise
One doesn't just meet Tom Cruise. Remini claims she had to make a $1 million dollar donation to the church to meet Mr. Cruise. And if that wasn't enough, their "meeting" included a game of adult hide-and-seek, according to the actress.
"At first I thought he was joking. But no, he literally wanted to play hide-and-seek with a bunch of grown-ups in what was probably close to a 7,000-square-foot house on almost three full acres of secluded land."
Scientologists Were Trying To Recruit J.Lo — At Tom Cruise's Wedding
TomKat invited Remini, but the actress claims they really wanted Jennifer Lopez and Marc Anthony to come to their 2006 wedding. (I mean, who wouldn't?) So much so, that Remini allegedly wasn't invited unless she got the singer on board. And she claims that was a move orchestrated by The Church of Scientology.
She Had To Be "Reprogrammed" For Ruining TomKat's Wedding
Though Remini has been vocal about Cruise and Holmes' wedding, saying that Scientology handlers tried to split up her and Lopez, who she brought as her guest, The Church of Scientology claims Remini was the one acting strangely at the wedding. According to Remini, Holmes and other Scientologists wrote a Knowledge Report that claimed she was a bad example at the wedding and wasn't abiding by The Church's rules.
And the alleged punishment for this grave offense was nothing to sneeze at: According to Remini, she was called to Flag (a religious retreat) for four months, had to take back her stories, shell out $300,000 to get "reprogrammed." After Remini says she wrote an apology to Holmes ("I'm sorry I destroyed your wedding"), Holmes allegedly responded via text, "Just handle it with your MAA." (MAA standing for "Master-at-Arms," a church member who oversees ethics.)
Infant Suri Was Found Crying On The Bathroom Floor Before The Wedding.
A more serious allegation made in the book involves Cruise and Holmes' child, Suri. The actress claims the then-7-month-old was crying on a restaurant bathroom floor before the wedding and women were looking over her, talking to her "more like an adult than a baby." 
"[I] grabbed the bottle from Suri's diaper bag, went into the kitchen, asked someone to warm it up, which of course was no problem, and returned to the bathroom, where Suri was still on the floor and crying."
She Was Almost Drowned During a Scientology Ritual
In a more personal revelation, Remini claimed she was almost killed in a Scientology ritual when she was a teen. According to Remini, after a "Sea Org" member saw Remini relaxing at the pool after work, he threw her into a Florida ocean — something she says left her "soaking wet and humiliated."
Scientology's Founders Are Linked To The LAPD
Tom Cruise wasn't Remini's only target. She claimed The Church — including Shelly Miscavige, the wife of Scientology leader David Miscavige — pay considerable money to the Los Angeles Police Department to work security at their events. (LAPD hasn't responded to Romper's request for comment.) And she also claims Scientologists often make charity donations in their names. She speculates:
"So you never quite know who is in tight with the church."
Image: Frederick M. Brown, Grant Lamos IV, Giulio Napolitano/Getty