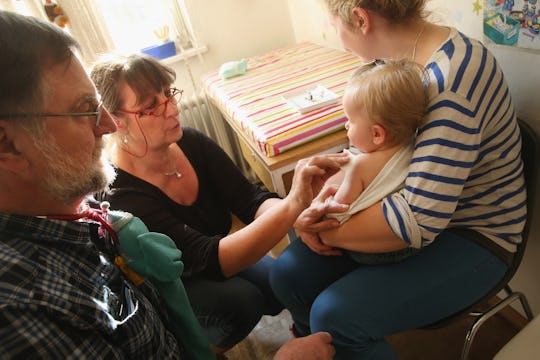 Sean Gallup/Getty Images News/Getty Images
6 Signs Of The Measles Every Parent Should Be Aware Of
The measles is an extremely contagious viral disease that affects mostly children, although adults can certainly get it, too. And since more parents are deciding to forego measles vaccines — and, as a result, there are at least 107 confirmed cases of measles across 22 states — it's more important than ever before that parents are aware of the signs of the measles, so they know what to look out for when caring for their own children.
According to Kid's Health, the measles is a contagious respiratory infection that causes flu-like symptoms and a body rash. Before the measles vaccine was made avialble to U.S. citizens, more than 500,000 cases were reported and 500 people died. Since the vaccine, however, measles has become incredibly rare in the U.S., which is why it's so upsetting that some parents are choosing to forego the vaccine and the number of reported measles cases in the country is steadily increasing.
According to the National Organization of Rare Diseases (NORD), it's "often difficult to avoid exposure to measles because it can be contracted from someone whose symptoms have not yet appeared." In other words, you could contract the disease from someone who isn't showing any signs of being sick. That's why it's so important to vaccinate your children, first and foremost, and be on the lookout for early signs and symptoms of the disease so you can help your child receive the care they need as soon as possible.