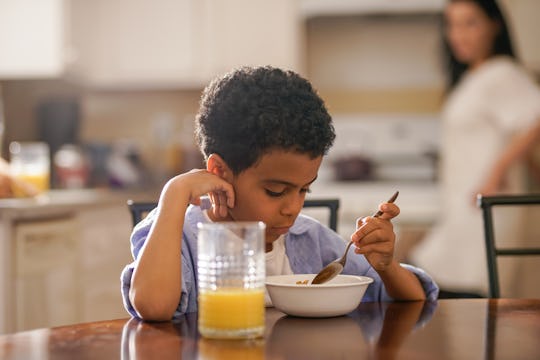 Joshua Resnick/Shutterstock
6 Signs Your Picky Child Is Not Getting Enough Nutrients, & When To Worry
For parents, feeding their kids is a a joy, and sometimes, a ridiculous amount of work. In an era obsessed with health and hands-on parenting, no one wants to be the mom with the kid who only eats plain spaghetti, but picky eating is actually common, and kids, who don't control much in their growing lives, love to feel in charge of something. And that's OK. Trouble only starts when their yellow-foods-only habit impacts their health. So you know when to let up, and when to double down, here are six signs your picky child is not getting enough nutrients at the dinner table.
When the body doesn't get enough of a crucial nutrient, kids develop what doctors call a nutritional deficiency, according to Kids Health. Extreme nutritional deficiency can in turn result in malnourishment, but as Kids Health reported, true malnourishment is rare in the U.S., where an abundance of food is available, and obesity is more of a problem, according to the Centers for Disease Control and Prevention (CDC). The good news is that left to their own devices, even extremely picky kids are likely to get most of the calories and nutrients they need to stay healthy.
"Plenty of Americans eat poorly. Junk food, juice, processed foods and refined sugars — we eat these with abundance," explains pediatrician, Dr. Jack Maypole of The Goddard School in an email interview with Romper. "And you'd think as a country we'd look rather unwell accordingly. Truth is, even for the pickiest of eaters, it takes quite a bit of persistence and resistance to become truly under- or malnourished."
According to Maypole, picky eating might be annoyng, but it's not usually dangerous. You won't see your kid wasting away as a result of their PB&J lifestyle, or feeling too fatigued to go to school because they'll only eat mushy foods.
"Kids tend to navigate this time of life well enough, in the main, and if we adults back off, they tend to eat what is put before them," Maypole says. With that in mind, here are six signs that mean something is wrong with your child's eating habits.