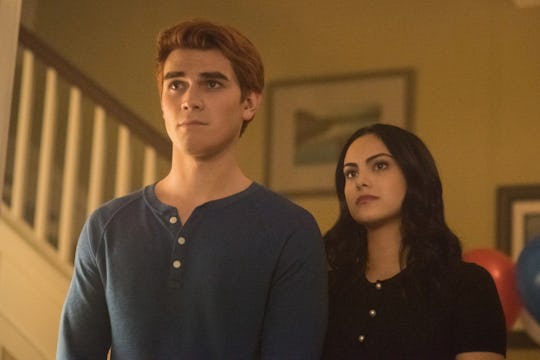 Dean Buscher/The CW
Fans Have Some Theories About 'Riverdale' Season 3
After seeing him dragged away in handcuffs on the Season 2 finale of Riverdale, fans are naturally concerned for Archie's future. With the third season ready to drop, fans have been airing all their speculations surrounding Archie's upcoming trial, along with predictions about Veronica's love life, and Betty and Jughead's romantic future. The mystery and drama is getting deeper and darker, so here are 6 theories about Riverdale Season 3 you can obsess over.
The show's cast and crew have dropped hints about the upcoming season through interviews and on social media, and the buzz is fanning the flames for Riverdale theorists. In an interview with Showbiz Junkies, showrunner Roberto Aguirre-Sacasa revealed that Season 3 will feature a flashback episode, new characters, and a more sinister undertone. "You know, there is a big mystery in season three which is kicked off in the season premiere, said Aguirre-Sacasa. "I wouldn't describe it as supernatural. It's sort of a little bit more occult and ritualistic, kind of like in True Detective if you saw True Detective season one."
He also revealed that Season 3 will feature Archie's murder trial, and continue to put pressure on the Archie-Betty-Veronica love triangle, with the introduction of a new love interest for Veronica. All these tiny tidbits have sent fans into an internet frenzy, so here are some of the most intriguing Riverdale theories so far.