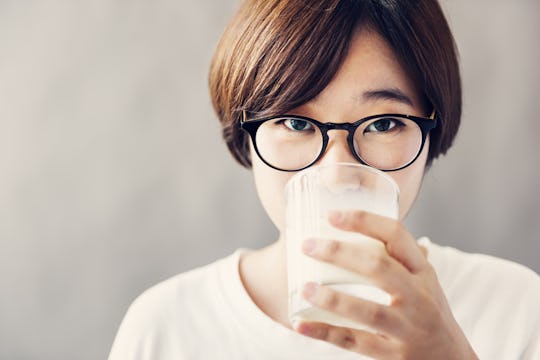 Rawpixel.com/Shutterstock
6 Things That Happen To Your Body When You Eat Dairy, Lactose Intolerant Or Not
Lately, it seems like dairy has become a controversial food group. More and more restaurants and coffee shops are offering almond milk, while the refrigerated aisles seem to boast new types of "milk" weekly, from rice to cashew to oat. Some experts rave about the benefits of eating and drinking cow's milk, while others claim those are empty words. So, what's the real deal? Here are five things that happen to your body when you eat dairy, even if you're not lactose intolerant.
Often, I miss the blissful days of childhood – when I assumed massive glasses of two-percent milk were magically strengthening my bones as quickly as I sucked them down, cheese-covered broccoli was my vegetable of choice, and I'd never even heard of the word "gluten." I knew everything there was to know about nutrition: milk, meat, vegetables, fruit, and that weird "brown bread" were good for me; cupcakes and Oreos weren't. A couple more decades of life, a 30-pound weight gain and subsequent loss, and more than a few battles with stomach issues forced me to learn more about nutrition, and it turns out most foods (or food groups) simply aren't just good or bad.
That said, some members of the population do have to cut out this food group entirely or to a large extent. The Genetics Home Reference by the National Institutes of Health reports, "Approximately 65 percent of the human population has a reduced ability to digest lactose after infancy." If you're in the minority with no issues digesting dairy, or extremely mild issues, these are some of the things that may still happen when you consume dairy.