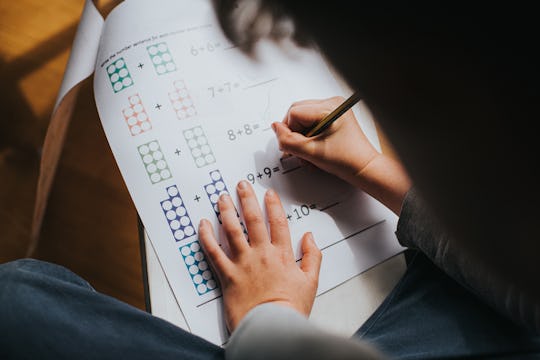 Catherine Falls Commercial/Getty Images
6 Things To Consider Before Holding Your Kid Back A Grade This Year, According To Experts
Countless parents whose children started the last school year at the head of the class are now asking themselves a very unexpected question: Are their kids really ready to move up a grade this fall? The sudden shift to remote learning after the nationwide shutdown this spring caused many students to fall so far behind that their parents think they might be better off repeating the year. Still, experts say there are some important things to consider before holding your child back a grade.
"Even children who are gifted or who were on track back in March may now be struggling [because] distance learning is a very different experience," parenting coach Caroline Maguire, M.Ed., author of Why Will No One Play With Me?, tells Romper. If your child's experience with distance learning left you wondering how much knowledge they were actually able to retain, it's understandable for you to be worried about their readiness for the next grade.
That said, the term "falling behind" is has a different meaning in relation to last year, with few students moving forward at the expected rate — and educators understand this is the case. "Many schools are recognizing that there was great variability in students' experiences last spring due to COVID and are therefore planning to scaffold, or help students gradually and systematically develop skills that were not sufficiently addressed," learning specialist Rebecca Mannis Ph.D. tells Romper in an email.
"The more parents educate themselves, the better they can identify appropriate goals and advocate for their kids in a productive way to achieve them," says Dr. Mannis. Here are a few things to consider before making your decision.