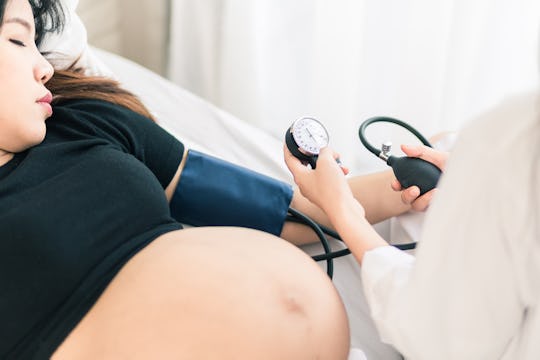 chompoo/Fotolia
6 Things You *Need* To Avoid If You Have High Blood Pressure During Pregnancy
Pregnancy is a strange, stressful time in a woman's life that can lead to some tricky health issues during the nine month period. Sometimes, even with all proper precautions taken and every effort made to reduce your risk, you might end up with a health scare or two. One of the more common health issues of pregnancy is what's known as "gestational hypertension," or high blood pressure. If you've been diagnosed with high blood pressure, it's important to know your limitations and the things you can't do when you're pregnant and have high blood pressure.
Blood pressure is the measurement of force by which your blood is pumped through your veins. When that pressure exceeds a certain limit, it's considered "high," and you're diagnosed as hypertensive, according to The University of Michigan. Women who were hypertensive before they became pregnant will likely continue to have high blood pressure through their pregnancy, while others may develop gestational hypertension, usually after the 20th week of pregnancy. It can be a dangerous condition, noted Stanford University, because one in four women with hypertension, specifically chronic hypertension, during pregnancy will develop the dangerous, life-threatening condition known as preeclampsia.
That's why it's important to know the precautions to take while you're pregnant if you have high blood pressure.