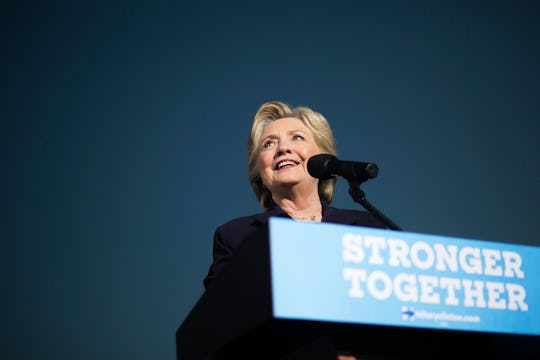 Maddie McGarvey/Getty Images News/Getty Images
6 Things You Should Know About The New Wikileaks Findings
The latest leaks from the famed hacker organization Wikileaks have made headlines not so much for their content, but for their accuracy: it appears the organization actually falsified some of the information in an attempt to dismantle Hillary Clinton's presidential campaign, according to Second Nexus. The leaks that came out involving her opponent, Donald Trump, may actually prove more damning. There are six things you should know about the new Wikileaks findings up front.
There has been plenty of mudslinging from both campaigns, much of which has circled around Clinton's email scandal. In case you forgot already, Clinton had a private email server in her home while she was Secretary of State that she used for both personal and government business, which really upset a lot of people. The fear was that, by using "clintonmail.com" to communicate with people, she was massively compromising sensitive government information.
It's turned into an ever-present narrative in the election, and over the course of the year Clinton has released a ton of the emails that were on the server and the whole thing was investigated by the FBI. Trump and other members of the GOP and the conservative media have continued to insist that she did not release all of the emails and was therefore hiding something. Here are the biggest takeaways from the recent leaks:
1. Some Of The Leaks Aren't Even Real
Wikileaks has been teasing out an "October surprise" for weeks that they felt had the potential to derail Clinton's entire campaign. No surprise that it was email related. It released the documents — which turned out to be emails that they just made up between Clinton Campaign Chairman John Podesta and Sidney Blumenthal — on Friday, at the same time as Trump's campaign was imploding after the tapes of him and Billy Bush were leaked.
The email that Wikileaks purported could end Clinton's campaign had supposedly been exchanged between Blumenthal and Podesta regarding Clinton's involvement in Benghazi — you know, the other thing besides her emails that's always being hung over her head. Need a refresher? Clinton was Secretary of State when Benghazi, Libya was attacked in 2012 and four U.S. officials died. The way that she handled the aftermath has been under constant scrutiny ever since, and she's testified before Congress about it several times.
Wikileaks claimed to have an email from Blumenthal that basically blamed Clinton entirely — which matters because Blumenthal has been a political advisor to Clinton for some years.
After the emails were leaked, a reporter at Newsweek sought to verify that they were legit – and when he read them, he realized that paragraphs had been lifted from an article he'd actually written. An article that denounced the GOP's incessant focus on Benghazi, not praised it. The damage had already been done, of course, because later that day Trump used the emails at a rally as proof that Clinton was ultimately to blame for what had happened — despite the fact that, aside from a Russian news organization called Sputnik, no media had yet reported on the findings.
Kurt Eichenwald, the Newsweek reporter whose words were lifted, responded by wondering aloud how Trump even had access to something that originated as Russian propaganda — and why he immediately regarded it as fact.
"So no, Mr. Putin, I'm not Sidney Blumenthal," Eichenwald wrote, "And now that you have been exposed once again, get the hell out of our election. And, Mr. Trump, you have some explaining to do."
2. Most Of The Emails In The Leak Are From Podesta
According to Wikileaks, it has more than 50,000 emails to release of Clinton's Campaign Chairman, John Podesta. Tuesday morning it posted another batch. Podesta had email contact with many people involved in the campaign financially and otherwise, which has many wondering if his emails are the key to proving some kind of corruption within the campaign.
3. A Longtime Clinton Aide Had A Bone To Pick With Chelsea
The media also latched on to an email supposedly from one of Clinton's aides, Doug Band, in which he calls Chelsea Clinton a "spoiled brat." The full context of the quote, which was quoted by CNN, seems to indicate that when the email was sent back in 2011, Band had lashed out at Chelsea Clinton after she asserted that members of the company were using her father's name without his permission as a strategy to develop "cred" with clients. Band wrote:
I don't deserve this from her and deserve a tad more respect or at least a direct dialogue for me to explain these things. She is acting like a spoiled brat kid who has nothing else to do but create issues to justify what she's doing because she, as she has said, hasn't found her way and has a lack of focus in her life.
4. Elizabeth Warren Had Some Staffing Recommendations
Senator Elizabeth Warren, a big supporter of Clinton's, has long advocated against Wall Street executives finding jobs in Washington D.C. Emails between one of her aides and one of Clinton's speechwriters seems to show that she was worried that Clinton wouldn't hire people from outside the hold of Wall Street. In the email, her aide "spoke repeatedly about the need to have in place people with ambition and urgency who recognize how much the middle class is hurting and are willing to challenge the financial industry."
5. Clinton Wanted To Defend Against "Clinton Cash" Claims
In 2015, a book called Clinton Cash was published that alleged the Clintons were siphoning money from their charitable foundation. It also alleged that the couple were in cash-making arrangements with the U.S. government and even foreign governments. When the book came out, Clinton wanted to fire back with a video addressing what was said in the book. An email from her aide, Huma Abedin, said: "She believes she needs to do this video because her integrity is being attacked and she is the only one who can say she didnt (sic) make a decision as secstate based on a donor."
While the campaign didn't support her making the video, it instead had her address the book's claims in interviews and the barrage of questions she got from reporters at campaign events.
6. No Shortage of Suggestions — And Sexism
Clinton received plenty of emails with suggestions on how she could run a more effective campaign and become a more "likable" candidate, but maybe the most unexpected one came from the CEO of Starbucks, who wanted to see her "reboot" her campaign during the summer of 2015. He pointed out that the campaign "feels stale with very few signs of the kind of freshness and transparency that the American people (especially millennials) will need to trust and ultimately elect HRC as President."
Meanwhile, Andy Manatos — president a government public relations firm — wrote in an email last year that "A good amount of exposure of Hillary holding, feeding and playing with her adorable grandchild would greatly help the public understand her."
Because apparently we can't understand a woman unless she's partaking in traditional gender roles.