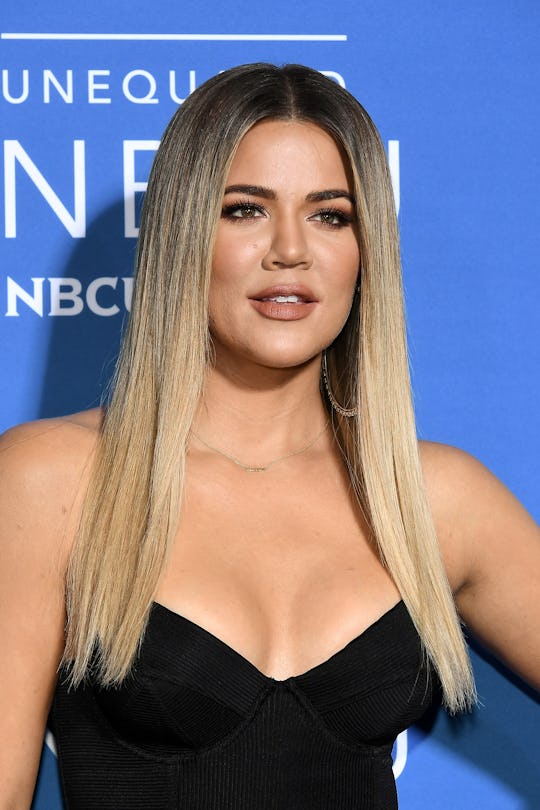 Dia Dipasupil/Getty Images Entertainment/Getty Images
6 Times Khloe Kardashian Opened Up About Her Pregnancy
On Dec. 20, Khloé Kardashian surprised fans with an early Christmas present: The reality star officially confirmed she is expecting her first child with boyfriend Tristan Thompson. Finally, the moment Keeping Up with the Kardashians viewers have all been waiting for! (Now where's Kylie Jenner?) Since the big reveal, Koko has gradually shared more details about her pregnancy with social media followers — who are eating it up, by the way. So let's take a look at 6 times Khloé Kardashian opened up about her pregnancy.
Rumors of a Khloé Kardashian bun in the oven first began in September —directly on the heels of Kylie Jenner's reported pregnancy and rumors that Kim Kardashian was expecting her third child via surrogate. This rapid-fire series of "revelations" prompted fans to relentlessly hound the reality stars' social media channels. Conspiracy theories were born. Photos were highly scrutinized for any sign of a bump. "Sources close with the family" came forward to spill juicy details about the reported pregnancies. But it became crystal clear that if Khloé was going to confirm anything, she was going to do it on her own terms. Here are six times Koko has dished on her pregnancy so far:
1. When She Nearly Broke The Internet With Her First Bump Photo.
After three months of silence about her reported pregnancy, this is the photo that cleared the way for Khloé opening up to fans about her bump. The shot featured the mom-to-be wearing a Calvin Klein bra while Tristan Thompson stands behind her with his hands (and hers) resting on her belly. As People reported, the snap was captioned:
My greatest dream realized!! We are having a baby! I had been waiting and wondering but God had a plan all along. He knew what He was doing. I simply had to trust in Him and be patient. I still at times can't believe that our love created life! Tristan, thank you for loving me the way that you do! Thank you for treating me like a Queen! Thank you for making me feel beautiful at all stages! Tristan, most of all, Thank you for making me a MOMMY!!! You have made this experience even more magical than I could have envisioned! I will never forget how wonderful you've been to me during this time!
2. When She Revealed How Nervous She Was To Announce Her Pregnancy.
The same day that Khloé confirmed the baby news, Us Weekly reported she took to Twitter to share her thoughts on the big reveal. "I still can't believe it," the 33-year-old tweeted to 25 million followers. "I was so nervous to post our announcement but WOWWW I am overwhelmed with the response by you guy!!! Thank you! Thank you! I love you guys!!
3. When She Shared With Fans How Far Along She Is In Her Pregnancy.
Just one day after officially confirming her pregnancy, Us Weekly reported that Khloé had revealed how far along she is. A Twitter follower directly asked the reality star — and was probably shocked to see that Khloé actually responded. "If you don't mind us asking, how many months are you?" a follower named Katie tweeted. The expecting mama replied with, "I'll be 6 months next week." Needless to say, fans were super excited and shocked that Khloé was that far along already.
4. When She Shared This Glamorously Festive Full-Body Shot.
On Christmas Day, Koko gifted fans with something else — the first full-body shot of her showcasing a bump. "Merry Christmas!! May you sparkle and shine this festive season, may all of your wishes and dreams come true," the star wrote on Instagram. "I pray that we all may feel this happiness all year round. God bless you!" Khloé made sure to include the hashtag #BabyBump at the end, for good measure. Just look at this fierce mama. She looks absolutely stunning.
5. When She Shared A Pregnancy Workout Video On Snapchat.
People reported that Khloé shared her pregnancy fitness routine with fans on Christmas Eve via Snapchat. The mom-to-be started on a step machine, and then shared herself using weights and a resistant band — each with a festive filter for the occasion. "I love that I can finally snap my workouts again…but Merry Christmas Eve and more workouts to come," Khloé wrote.
6. When She Clapped Back At Those Who Shamed Her For Exercising While Pregnant ... And Then Continued Posting Workout Videos.
As ET Online reported, many fans criticized the reality star her for working out while pregnant, after she shared videos of herself and sister Kourtney hitting the gym on Snapchat. But Khloé was having none of it. She took to Twitter to share an article about the benefits of exercising during pregnancy, while also writing, "For the ones who think they are physicians all of a sudden but MY doctor and I communicate and my workouts are cleared and highly recommended. Thanks kiddos! Don't make me stop sharing shit!" And you can bet Khloé went right back to sharing her sweat sessions.
Now that Khloé has confirmed her pregnancy and given fans an idea of her due date, I wonder if she'll be sharing if she's expecting a baby boy or girl? I guess we'll find out in the next three or four months. *Refreshes Khloé's Instagram page* The countdown to baby Koko is on!