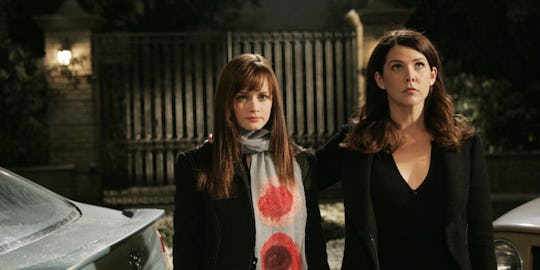 6 Ways Being A Single Mom Is Absolutely Nothing Like 'Gilmore Girls'
I'm a single mom. (*pause for you to throw me a tiny parade*) I'm a single mom with one kid, and while my child happens to be a dude-child, I was raised by a single mom who had 4 girls, so I figure between the gender of my offspring being different, and my mom's number of kids being different from Lorelai's, I still end up with a better-than-most understanding what a real-life Gilmore Girls situation feels like. And despite the fact that I'm a young-ish (29, take your time) brunette with blue eyes who talks too much and feels romantic stirrings for any man behind a counter who keeps me supplied with coffee, I've been disappointed to find that, so far, my life bears very little resemblance to that of Lorelai Gilmore, and my relationship with my kid doesn't feel a whole lot like the one Lorelai has with Rory. 
When Gilmore Girls originally premiered, I was 14, the same age as Rory. As the sister who was generally considered to be closest to my mom growing up, and generally considered to be the one who was most like her, I immediately felt strongly attached to the characters of Lorelai and Rory, and felt my identity blissfully validated by how endearingly and awesomely they were portrayed on the show. It hasn't been until lately — 15 years later, with a young kid of my own — that I've realized that despite the show still being unfailingly enjoyable to watch (will unapologetically binge watch anytime I have the flu and will love it every time, until the end of eternity), it's also the absolute least accurate depiction of single parenthood ever. 
(Gilmore Girls also got a lot of things right about what it's like to be a single mom, in terms of what feelings you go through at different times, how it affects various parts of your life, and what certain aspects of your relationship with your kid are like, but we're not talking about those right now because I don't want to, and you can't make me because I was raised by a mom who was more concerned with being my friend than setting limits for me, so I'm not good at being told what to do, and now we all have to deal with it.)
To be clear, I get that going all "TV isn't real!" isn't exactly a revolutionary or particularly illuminating thing to do, but this show is a weird case where it feels more relevant. I'm sure that I'm not the only woman who, during her impressionable teenage years, internalized this incredibly alluring picture of what parent/child relationships could be, and what being a single mom could look like, and decided that we would grow up to develop relationships with our kids that closely mirrored what we saw on this show. And now that we're here, I hate the idea that there might be people out there who feel disappointed, or like failures, for not being able to recreate a Gilmoresque existence for themselves and their children, especially if not reaching the aspirational ideal set forth by the WB all those years ago results in people feeling bummed out about differences between the Gilmores' lives and their own (differences which are, most likely, indicative of way healthier family dynamics and parenting strategies).
So in the spirit of "don't be sad; you're probably just being a better parent than Lorelai," here are the key ways in which the Gilmores' lives were aggressively unrealistic and different from the ways single moms actually operate: