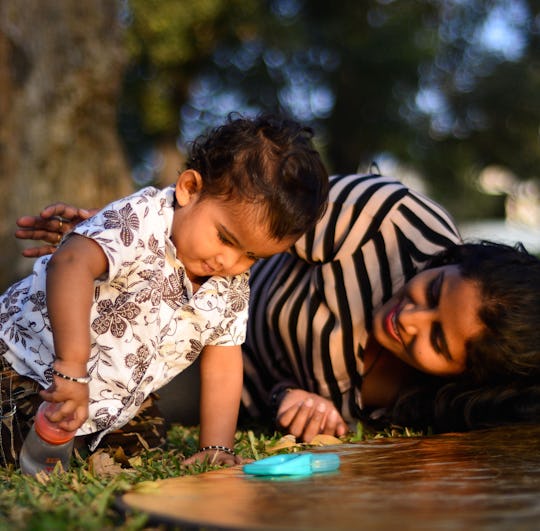 6 Ways Having A Baby Suddenly Makes You Feel So Much Older Than Your Friends Without Kids
I am 32 years of age, and a lot of things make me feel old. For example, I occasionally teach classes to high school students, and the fact that they were born in 1999 recently came up. Hypothetically speaking, I am old enough to be their mother. That is… unsettling to say the least. But when you're a mom among a lot of friends who aren't parents, that "holy crap, I am effing ancient" feeling is not a new one. Bring it on, high schoolers. I had kids before most of my friends — I'm awesome at feeling prematurely elderly at this point.
About five years ago, I was the first of my closest friends to get pregnant. In the years since, we have all grown a lot as people, but in terms of our day-to-day lives, mine looks a whole hell of a lot different than it did before my son was born. Theirs? Largely the same, give or take a few details. There's absolutely no value judgment in the different paths our lives have taken, but the difference can often be stark. Moreover, those differences often translate into them perceiving me as being "a real grown up" while they (correctly or not, depending on which specific friend you're talking about) view themselves in a state of suspended adolescence, as I suspect so many people do in their 20s and 30s, especially if they don't have kids. I have to think this is because, for all the strides feminists have made in addressing how we define womanhood and female accomplishment, we still have plenty of messages out there conditioning us to equate "having a baby" with "being a grown-up lady." (Way to go, society, you're still the worst.) This, in turn, makes me feel like an old fogey who's rapidly hurtling towards the grave.
So what are the other ways having a baby makes you feel so much older than your friends without kids? Let's journey through this mess: