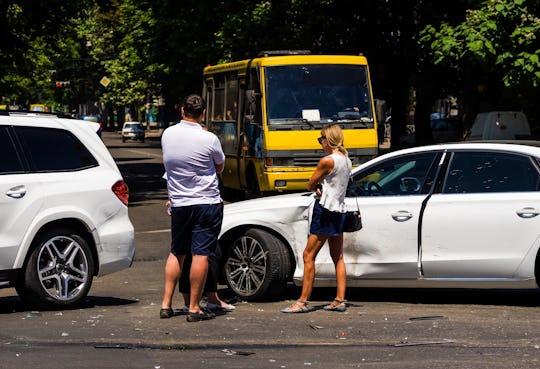 Shutterstock
These 6 Expert-Approved Tips For Awkward Situations Are Legit Lifesavers
We've all experienced those dreaded awkward moments: you forget someone's name, or they mispronounce yours, maybe you wave back at someone who is actually waving to the person behind you, or a friend or coworker unintentionally upsets you. While these uncomfortable moments are bound to happen, there are ways to deal with an awkward situation that can help you (and hopefully everyone involved) feel more at ease.
Just within the last 14 days, I've gone in for a hug when the person I was meeting went for a handshake, and I also assumed that an acquaintance and I were politically aligned, only to find out (after I spoke passionately about my opinions) that we are not. While both of these situations made me feel weird in the moment, I was able to laugh off the first one; the second one, on the other hand, still makes me recoil when I think about it.
For every awkward situation, big or small, there are ways to make it feel more manageable and less like you need to never again go out in public. Below, I've rounded up six expert-approved tips for dealing with those cringe-worthy moments where you put your foot in your mouth, forget something important, or someone accidentally offends you.