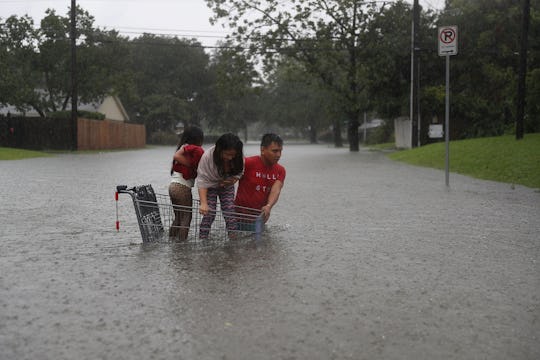 Joe Raedle/Getty Images News/Getty Images
6 Ways To Help Children In The Devastating Aftermath Of Hurricane Harvey
Hurricane Harvey's unprecedented rainfall began pelting Texas this past weekend, and still continues to devastate Houston and its residents. Across the nation, Americans are wondering how they can be of assistance to those who are most vulnerable. And these six ways to help children after Hurricane Harvey are certainly a good place to start, because even though the storm has passed, people are still seeking refuge, help, and supplies.
The Category 4 hurricane first hit the coast of Texas, destroying towns with its winds and yielding massive flooding. According to FEMA Administrator Brock Long, "more than 30,000 people will need shelter as a result of the unrelenting rain." Through Thursday of this week, "the National Hurricane Center is calling for 10 to 20 inches of new rainfall" in the already-affected areas, so the destruction is far from over.
Currently, the Hurricane Harvey death toll remains unclear. Officials have attributed at least eight deaths to the storm, and, given the nature of flooding, these numbers are likely to rise.
There are definitely some national organizations that you can donate to that are assisting children who've been displaced by Harvey, but there are also plenty of locally-based charities that could use your help as well. Addressing medical needs, hunger, and homelessness effectively are key right now, and any the following six strategies can provide assistance where it's deeply needed.