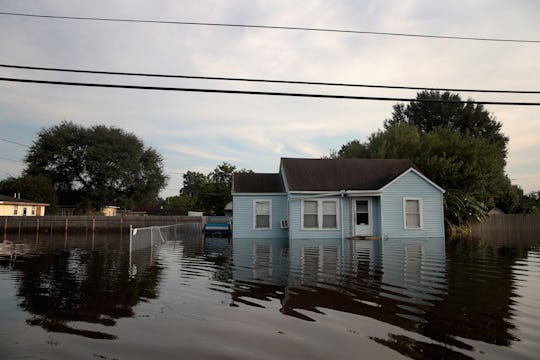 Scott Olson/Getty Images News/Getty Images
How To Prepare For Hurricane Irma — Because It May Hit The East Coast
Hurricanes can take anyone and any town by surprise. This was made particularly clear last week, when Hurricane Harvey took the city of Houston, Texas by storm. And now, with a hurricane developing off of the east coast of the United States — which is projected to hit later this week — people should know how to prepare for Hurricane Irma, just in case it's a powerful as experts believe it may be.
Here's the lowdown on Hurricane Irma: it is currently a Category 3 hurricane, projected to become a major hurricane within the next few days currently heading towards the Bahamas and the United States, according to CNN. But Irma is largely unpredictable; it is too early to tell what kind of impact it could have on the United States. But that doesn't rule out the fact that it might have some kind of landfall by later in the week, according to CNN.
It is also too early to tell which states it will hit, according to the Weather Channel. But experts are warning those who live along the East Coast to pay close attention to the news this week to monitor the progress of the storm.
In any case, it is best that those who live in a town that sits along the coast prepare themselves for anything. In the coming days, these basic instructions could help you if the hurricane were to threaten to hit or hit your area.
Watch The News
This is a given, but is still so important. Because Irma is so unpredictable at this point, your local news station (and weatherman) will be tracking the progress every step of the way. They will be able to track the kind of threat it may pose to your state or area and can provide vital information to your safety.
Whether you tune into the news every day or follow your local news station on Twitter, this hyper local information will be vital in hurricane preparation.
Listen To Instructions
Don't wait around — seriously. If officials are telling your town to evacuate or to seek shelter, do so immediately. Now is not the time to rebel against the system or doubt the storm's impact.
You can sign up for alerts from the Department of Homeland Security that will warn you when it is time to seek shelter or evacuate.
Stock Up On Supplies
Every item counts. Nonperishable food items, water, and medical supplies are the kinds of items that are absolutely vital for hurricane evacuations and are also the items that stores will run out of first. Although it is still too early to tell where Irma will hit, it is best that you stock up on supplies now while stores still have plenty of items — before it's too late.
A full list of supplies that are extremely necessary during a hurricane can be found here.
"It is not time to panic," hurricane forecaster Dan Brown told Florida newspaper the Sun-Sentinel on Sunday. "But it is the peak of hurricane season and a holiday weekend is a good time to stock up on hurricane supplies."
Sign Up For Flood Insurance
Flood insurance might not seem like a huge deal, but it should be. As seen with the devastation from Hurricane Harvey, flooding can cause sustained damage to personal items and homes. In preparation for Irma, according to Fortune, signing up for flood insurance and taking photos of your personal belongings can speed up the claims process if any damage is caused to your home or items as a result of the hurricane.
It is also important to pack up any important documents and keep them in a safe place (or bring them along with you, if you do evacuate) so they don't get ruined in flood waters.
Know Your Evacuation Zone
According to FEMA, many coastal communities have designated evacuation routes to get its residents away from where the hurricane may hit and cause devastation. A basic list of evacuation zones can be found here.
Knowing and mapping out your evacuation route ahead of time will allow you to stay calm and knowledgable in the face of the storm if evacuation is necessary.
Make A Plan
The Department of Homeland Security has conveniently laid out detailed steps for creating a plan if a hurricane were to hit your area. Making a plan is vital to evacuation — with a solid plan in place, it will assure that you, your family members, and your belongings stay safe until the storm finally passes.
At this time, there really is no telling where exactly Hurricane Irma will hit and how powerful it'll be. But by preparing for the worst case scenario, you can give yourself some peace of mind in the meantime.