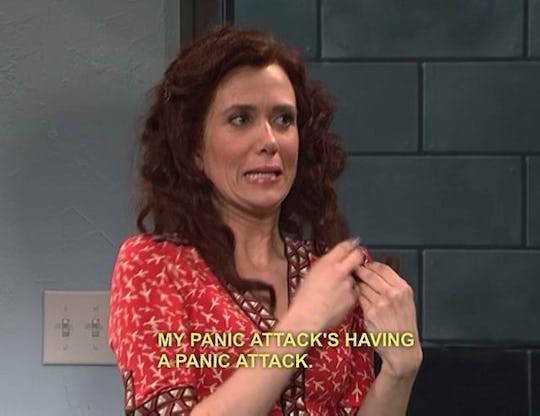 6 Weird Fears Everyone With A Newborn Has At Some Point (Because Dear God, What If The Baby Just, Like, Jumps Out Of Your Arms)
A few days after giving birth, the attending nurse came into my room and casually pronounced that my newborn son and I were being discharged from the hospital. She smiled expectantly. Perhaps, assuming that my husband and I would be absolutely thrilled to embark on our new journey together as a family of three. Instead of being overcome with excitement and joy at the prospect of going home, I remember feeling outright panic. I began frantically flipping through the discharge paperwork, in a desperate search for my copy of the baby owner's manual. When, to my dismay, I did not find it, I paged the nurse and hastily informed her of this serious oversight. She calmly and kindly explained that there was no such manual. I was on my own. I literally thought that hospitals sent you away with a baby in one arm (JK, obviously in an obsessively selected carseat) and an actual baby manual in the other. Maybe even just a print out with a few tips and guidelines. Something. But alas, there was nothing except my abject panic.
All the nurses had a good, light-hearted laugh at my naivety, but all the while, I was completely baffled. Surely, they didn't think that I was either prepared or competent enough to take charge of this tiny, new bundle. The same woman who once had a pet goldfish mysteriously disappear from its bowl (no, seriously, where did he go? I still have no idea.) and who managed to decimate every potted plant that dawned her doorstep. And now they were going to turn over custody of this unbelievably precious and delicate little boy and just assume that I knew what I was doing?
That initial panic, was just the beginning of a host of weird fears that I experienced while parenting a newborn.