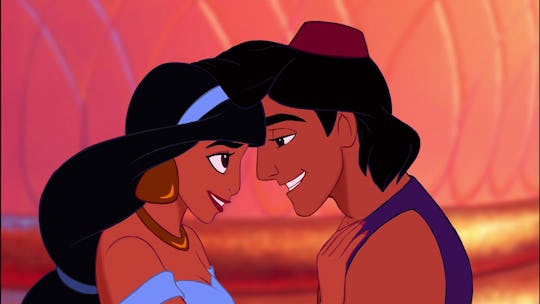 7 'Aladdin'-Inspired Baby Names That'll Show Your Child A Whole New World
Aladdin is a Disney movie that holds a very special place in many a heart, even more so than The Little Mermaid and Beauty and the Beast. There's something about the exotic locales, the manic, rapid-fire patter of Robin Williams' Genie, and the magic that imbues every frame — the Genie's bottle, the magic carpet, Princess Jasmine's beguiling beauty… So it makes sense that a true Aladdin fan would want to go beyond Disney-inspired baby names and concentrate specifically on this 1992 classic.
Because of the baddies in Aladdin, you'll want to be careful when selecting a name inspired by the movie. For example, you may want to bypass Iago; the history of the name ranges from Shakespeare's super-villain in Othello to Aladdin's own shrill, annoying parrot. (However, a boy named Iago is guaranteed to rule the school yard with an iron fist.) Jasmine is a pretty on-trend name for a girl, with its floral associations and the bold, beautiful princess as a namesake. You can go off the beaten path with "Genie" — traditionally a girl's name, but what if your little boy is named Gene (which, like its female counterpart Eugenia, means "wellborn")? Then Genie could be a natural nickname. Here are seven options for Aladdin-lovers; now all you have to do is hope your little Jasmine doesn't grow up and legally change her name to Ariel.