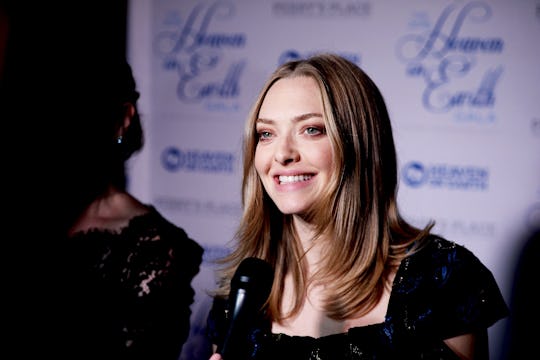 Matt Winkelmeyer/Getty Images Entertainment/Getty Images
7 Awesome Amanda Seyfried Quotes About Pregnancy
Mamma Mia star Amanda Seyfried recently gave birth to her first daughter with husband Thomas Sadoski, and the new mom couldn't be happier to be welcoming her first child. Seyfried hasn't let the public in on too many details regarding her new little girl yet, but in all fairness, it's still early days — Seyfried may end up sharing a cute picture or the baby's name eventually. In the meantime, moms-to-be and Seyfried fans can enjoy Seyfried's best quotes about pregnancy, now that the Mean Girls star has officially given birth.
A bit of background on the lead-up to Seyfried's first child? Sadoski and Seyfried first met in 2015, according to Glamour, when they were both working on an off-Broadway show. They reconnected last year and started dating in March, and just six months later, the 31-year-old actress and Sadoski got engaged, according to Us Weekly. Finally, on March 12 this year — just days before welcoming their daughter — Seyfried and Sadoski eloped and got married in a secret ceremony. (Their only guest was Seyfried's rescue dog, Finn.)
Here's a look back at some of Seyfried's best quotes about her pregnancy.
On Getting Pregnant So Soon After Getting Engaged
Seyfried knew she got pregnant relatively quickly by some people's standards, but that was a decision she was perfectly happy with. "I don't question how fast things happen, because I'm actually right where I'm meant to be," she told Elle earlier this month. "I trust the universe."
She Definitely Had Cravings
Talking to W Magazine in December, Seyfried said she was having her fair share of cravings, telling the magazine:
I crave everything that's made of flour, butter and sugar. Or not even sugar. Just flour and butter. You know what? Not even flour. Just butter. A stick of butter. Butter now. I'm so glad I'm not in Paris right now. It's actually very unhealthy, the amount of butter they consume.
On The Perspective Her Pregnancy Gave Her
Speaking to New York Magazine in December, Seyfried said being pregnant had given her a new perspective on taking care of her own mental health, saying:
I'm very, very close to that child in me. I'm working on it every day. I'm very, very involved in working on it now, especially because I'm about to be a mother. It's really important to talk about stuff like that. I'm the healthiest I've ever been because of it. And it's such a freedom talking about it too.
She Made Jokes About Her Due Date
Whether she was just trying to throw off nosy journalists or she simply felt like she'd been pregnant for ages, Seyfried was able to joke about her pregnancy. When Access Hollywood asked how excited she was for her baby at the premiere of The Last Word in early March, Seyfried answered:
Pretty excited, yeah. 13 months pregnant, man. Can you believe it? 13 months.
She Was Super Ready To Be A Mom
According to People, when Seyfried was speaking to Vogue in February about motherhood, she said, "I've never been excited by anything more in my life — and ready."
On Her Superhuman Senses
It'd be super easy to insert a Karen Smith joke here. But there's no need —Seyfried did get heightened senses during her pregnancy, at least according to what she told Refinery29 in December. "I swear to god I can smell the TV," she said. "There's this static-y, metal-y scent. Do you know what I'm talking about?"
On The Final Stages Of Pregnancy
During her final month of pregnancy, Seyfried just wanted to hurry up and give birth. "I'm ready to go," she told E! News in early March. "I'm ready to meet the kid!"
Now that she's finally met the kid, I'm crossing my fingers that we'll get some more hilarious, relatable quotes from Seyfried on parenting soon. Congratulations to the new parents.